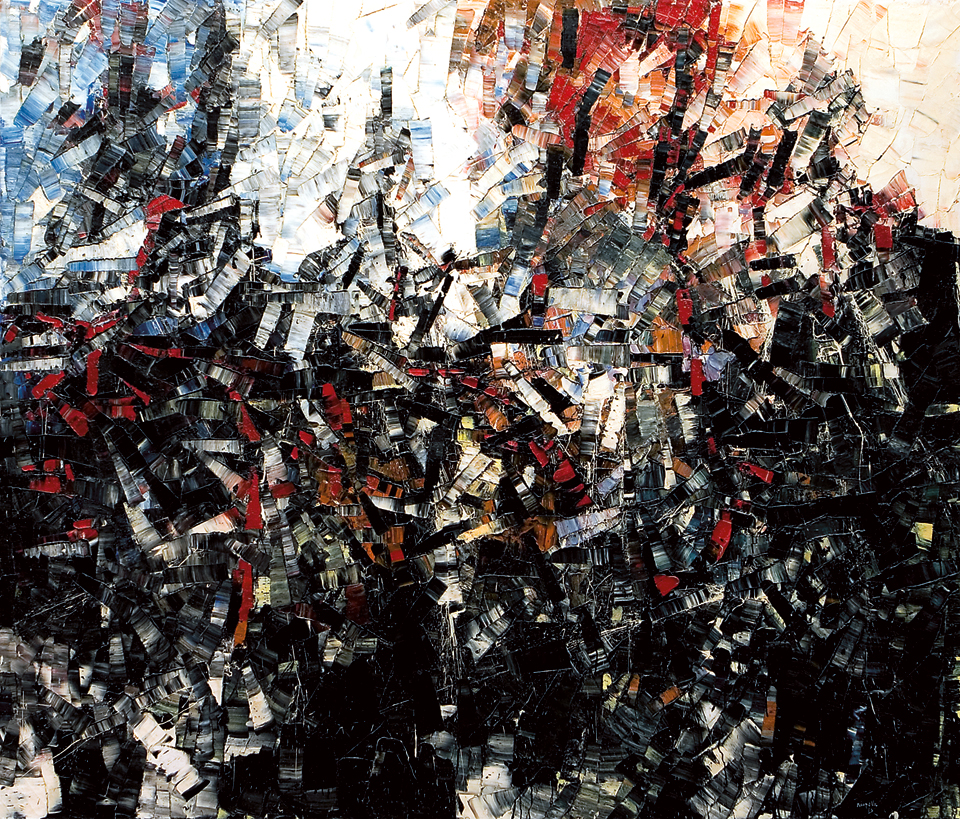 If you're thinking of dabbling in the spring Canadian art sales this year might I suggest a visit to your banker before you enter the fray? You'll need to extend your line of credit and liquidate some of those other assets if you want to be a serious player this time around. Despite the fact that not all the salerooms have yet reported in, the current combined pre-sale estimate for this season sits at a whopping $26/35 million and counting! Based on past performance, pre-sale estimates have proven to be somewhat conservative so I think it is fair to say that we could easily see $30/40 million in sales this season. This being the case, and when we add the strong fall totals from last year to the likely spring figures, we could well see this market test the $60 million barrier, having just broken the $50 million barrier for the first time last year. Without a doubt I think we can already start celebrating the Canadian art market's eleventh consecutive annual total sales gain, according to figures provided by the Canadian Art Sales Index.
In keeping with their current title as the country's leading Canadian art salesroom, Heffel Fine Art Auction House with head offices in Vancouver has, once again, managed to provide the season's top pre-sale estimate. It is their, and the country's, largest ever pre-sale estimate which, company Vice-President Robert Heffel says, has been "conservatively set at $11.5/16 million." Sotheby's, celebrating their 40th anniversary serving the Canadian art market is also preparing for their largest sale ever with a pre-sale estimate of $9/12 million. Joyner tells us they are still taking in consignments and at their most recent count were looking in excess of $5 million for their spring session. Elsewhere across the country strong sales in Calgary, Ottawa and Montreal all adds up to a real block-buster season.
Although pre-sale estimates are up considerably the number of items being offered is similar to past seasons. Heffel and Sotheby's will be offering 219 and 226 lots respectively while Joyner's main session will likely be in the region of 275 lots. What this means in terms of the average price per lot is quite significant. Currently the average price per painting sold at auction in Canada sits at $9996. Based on the high estimates of each saleroom, and we know these will almost certainly be exceeded while not everything in the sale will sell, the average price per painting being offered this spring is in the region of $47,000, five times the current market average. Individually, Heffel is looking at an average price per lot of $73,000 while Sotheby's is $53,000.
With such mouth-watering estimates, what are the masterpieces that we will be seeing this spring? Not surprisingly the battle for top lot is once again down to the country's two leading performers, Jean-Paul Riopelle and Lawren Stewart Harris. On paper Riopelle gets the nod with an estimate of $2/2.5 million for "the most exceptional and monumental Riopelle canvas to come to auction in recent memory," says Mark Buck of Sotheby's. La Foret Ardente (illustrated above right) painted in 1954 and measuring 76" x 90" will be offered by Sotheby's/Ritchies in their May 28th sale.
Although sporting a considerably lower estimate at $800,000/1.2 million, Lawren Harris's Pine Tree and Red House, Winter, City Painting II, painted in 1924 and measuring 32" x 38" could still end up the season's top selling lot by the time the hammer falls at Heffel's May 23rd sale in Vancouver. It's an exceptional and appealing canvas that has all the ingredients to set yet another record for the artist. Joyner's current star attraction in their May 29th sale is another Harris, this time a 12" x 15" sketch of Emerald Lake, Rockies, estimated at $400/600,000.
Clearly there is no shortage of quality works being offered this spring, and with the economy still generally buoyant, and the cost of money relatively low, there appears little to get in the way of avid bidders in their quest for Canadian greatness to hang on their walls. Will records fall? Will we be celebrating the highest season on record, and the eleventh consecutive market gain? We'll know soon enough. May, 2007 may well be remembered as the single most important month in the history of the Canadian art market. Stay tuned!