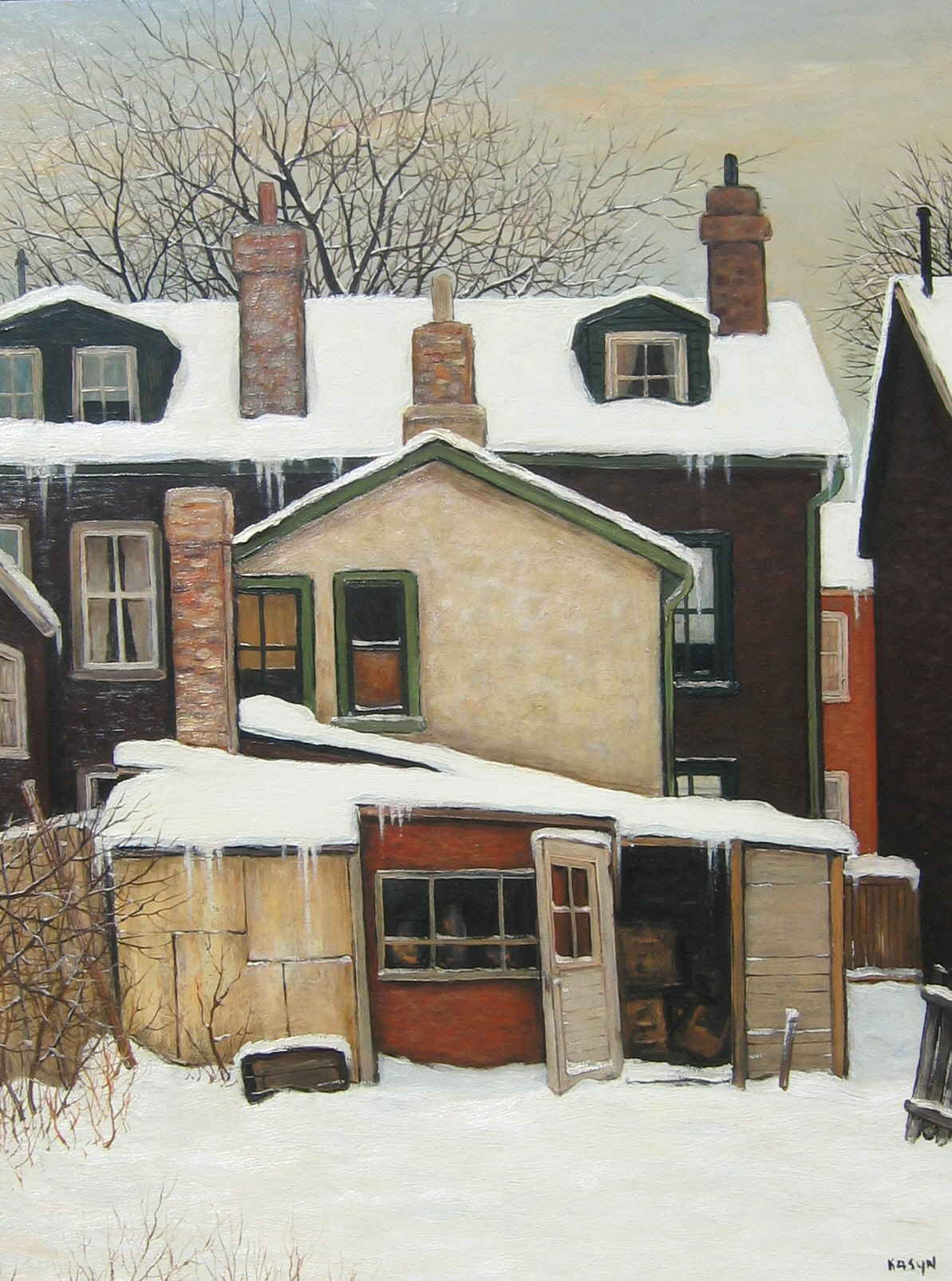 Vancouver (15BP) – Vancouver's newest saleroom, Westbridge Fine Art Auction House, turned in a solid performance at its October 30 2005 sale which saw a good and affordable mix of Canadian and international paintings eagerly contested by buyers bidding live on the internet, on the phone and in attendance in the small, intimate gallery setting. The sale was highlighted with an above estimate bid of $12, 650 for John Kasyn's Seaton Street Yard in Early Winter, a 24" x 18" oil on board from 1982 (illustrated right). A delightful Kasyn watercolour of Behind Robert Street, 8.5" x 6.5" picked up a bid of $2185, and two small early European landscapes by Albert Robinson found buyers within estimate at $4830 each. Another small panel fetched $3680.
James Henderson's Winter Landscape, 8" x 10" did well with a bid of $4830 against a $2/3000 estimate while the artist's Portrait of a Plains Indian, 9" x 7" sold to the same buyer for $4140. A small winter landscape by Mildred Valley Thornton was bid to $1725 while a 9.5" x 8" portrait of a Cree Baby c. 1930 by the same artist fetched $1495. An early and atypical Toni Onley Mexican coastal view fetched a mid-estimate $1840.
A good selection of international works was led by an above estimate bid of $8625 for a small, 12" x 10" canvas of 5th Avenue Temple Emanuel, 1936 by American painter Johann Berthelsen. Philip Shumaker's Gulls in a Rocky Inlet, 24" x 30" fetched $6325 against a $2/3000 estimate while a delightful and rare oil painting by late British cartoonist Norman Thelwell entitled Up, Up, & Away! sold mid estimate for $6325.
Also of note was a bid of $5750 for Evening Reverie a 20" x 27" canvas from British artist Tom Mostyn, and $3450 for Boaters on a River Bank, 12" x 16" by French artist Andre Gisson estimated at $1/1500. A John Dearman panel of figures in a farmyard from 1838 fetched $2070, while a Bartolome Sastre canvas Recesso, Giverny, 45" x 45" realised a mid estimate $3680.