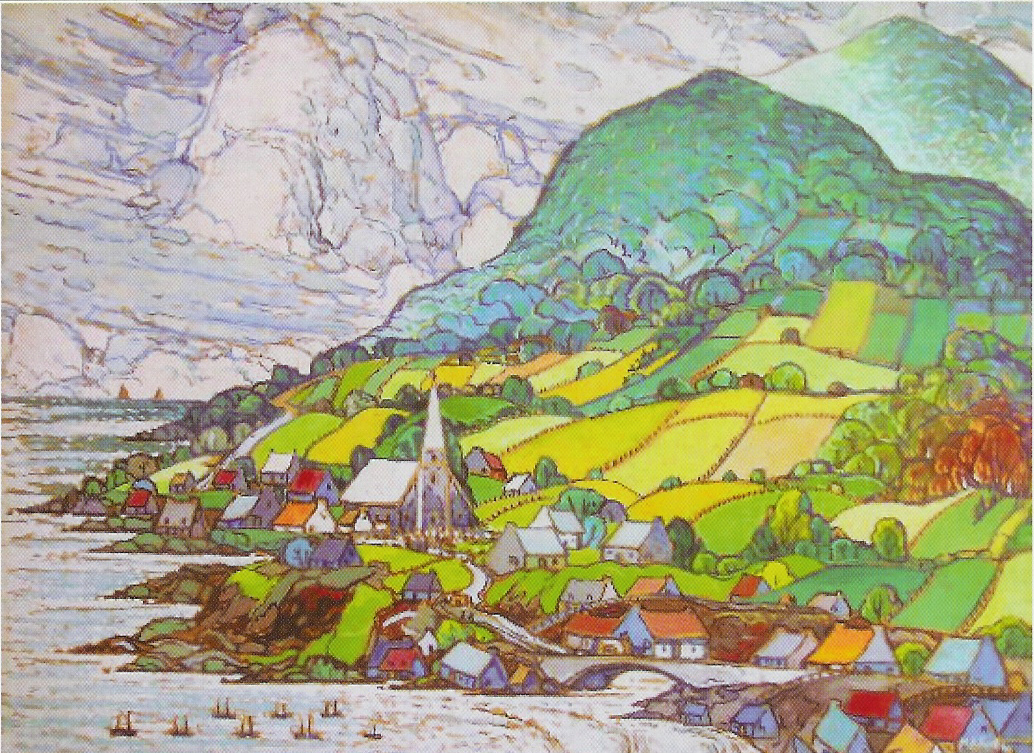 Montreal (15BP) – Although there were not many big-ticket items in Pinney's Canadian and International art session, June 14, those pieces that there were did not disappoint. Marc-Aurele Fortin's Paysage, Grande Vallee (illustrated right), an oil and casein on board, 36" x 48" from 1952, was the top performer, and although it missed its $150/250,000 estimate, it still did well taking a bid of $138,000. Selling above estimate was the artist's watercolour of a Village en Automne, 22" x 30" from 1938. It found a buyer at $33,350 against expectations of $20/30,000.
A view of the garden of Kent House, Quebec by 19th century artist Maria Brooks did well, finding a buyer at $5060, comfortably above its $25/3500 estimate. A definite surprise for the saleroom was the $10,350 paid for Ernest Neumann's portrait of Miss Sybil Cohen. Painted in 1939, the 30" x 25" oil on board had an estimate of $25/3500. One senses some possible family rivalry among the bidders here.
Charles Franchere's Jeune Fille a l'Oiseu, a 16" x 13" canvas estimated at $45/6500 sold for $7590, while Bertram Brooker's Lake Manitoba Ice House, an 11.5" x 14" oil on board, sold for an above estimate $14,950. We saw in the Toronto rooms a few weeks earlier the increasing popularity of John Young Johnstone's work. This sale further endorsed his market presence when St. Joachim, a 14" x 18" canvas sold for a new record price of $32,200 against a $20/30,000 estimate.
Also of note among the Canadian paintings was a bid of $4830 for Allan Edson's In the Beech Woods, a 19" x 33" watercolour estimated at $3/4000, and the $3910 paid for Doris McCarthy's Farm, Wellington, Ontario, an 11.5" x 13.5" oil on board from 1942 that carried a $1/1500 estimate.
There were a few strong prices among the international pieces too. Finding a buyer at $37,375 was Johan Scherrewitz's The Clamdiggers, a 21.5" x 39" canvas estimated at $15/20,000.A John Emms canvas of A Hunter and his Dogs at rest after a Kill, 14" x 18", lived up to expectations when it fetched $15,525, while a 19th century Italian School watercolour View of the Temples of Paestum did better than expected, finding a buyer at $6555 against an estimate of $1/1500.