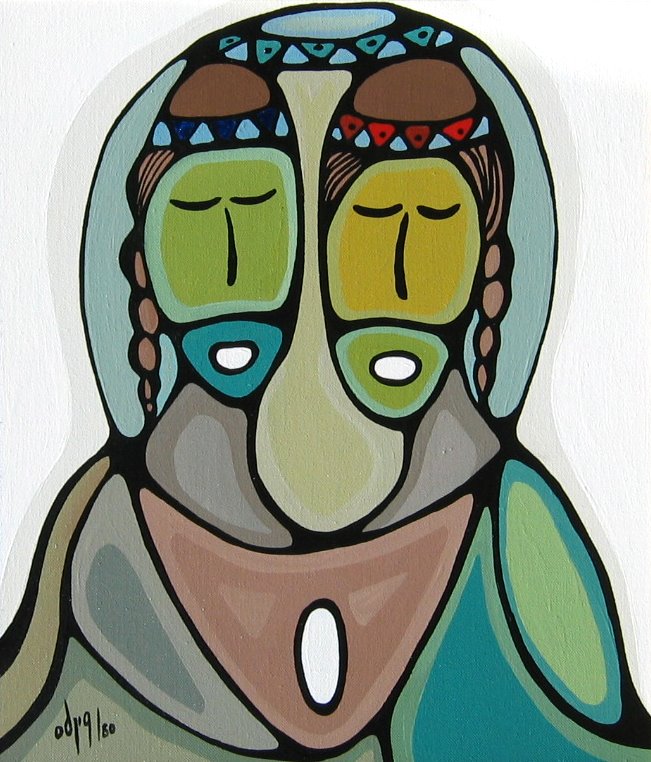 Vancouver (15BP) – A small session of Canadian and international paintings and prints was offered by Westbridge Fine Art Auction House on December 7th with several works achieving notable prices. Best among them was a bid of $10,350 for Sisters, an 18" x 16" acrylic on canvas from 1980 by Daphne Odjig estimated at $6/8000 (illustrated right). A Sybil Andrews watercolour of a forest interior sold for $4600, while a Berthe des Clayes pastel of a Laurentian Farm, 8" x 10", fetched a low estimate $1840.
A rare appearance at auction of a Michael Tickner work attracted lots of interest and set a modest record for the artist. Drifters Return, Howe Sound, B.C., a 24" x 30" acrylic on board from 1989 sold mid-estimate for $6325.
Several works by Mildred Valley Thornton were on offer and most did well, the best being a bid of $1610 for a small forest scene estimated at $12/1800. All three works from the brush of Robert Genn found buyers with the artist's Afternoon in the Coast Range, 16" x 20" from 1977 picking up the strongest price when it was sold for a mid estimate $2128.
A small Bill Reid serigraph of a Haida Dogfish fetched $690, and Michael Snow's serigraph Clothed Woman (In Memory of My Father) fetched $540. A Sidney Strickland Tully oil on board of a Harbour Scene, 9" x 6", sold just under estimate for $920, while a Henry Harold Vickers panel of sheep in A Worcestershire Lane picked up a bid of $863.
Of note among the international works was a mid estimate bid of $6900 for William Mervyn Glass's 30" x 24" canvas of Iona, Cathedral Rock in Scotland.