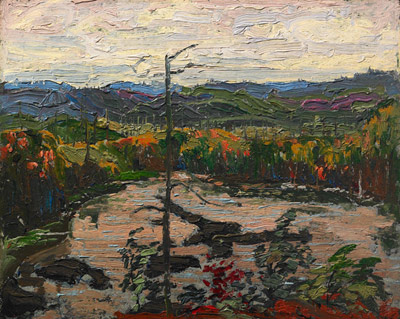 For five days in May, from the 22nd – 27th, all eyes will be on the Canadian art market, and, in particular, the three major auctions offered during that time by the country's leading salesrooms. This season, however, due to the absence of any major collections, we find the three top rooms closer together in their pre-sale estimates, more so than we have seen for the past several years. Heffel, whose last two auctions have generated around $40 million has expectations of $7/9 million this spring, while Sotheby's are looking for $6/8.5 million, and Joyner is projecting sales of $4/6 million. A projected combined total, therefore, of $17/23.5 million. Bonhams, a newcomer to the Canadian market, can be expected to add another million or so with their June sale, so we could be looking at an upper estimate of around $25/26 million. Ordinarily not bad at all, but perhaps not enough to see the market's annual sales total claim its twelfth consecutive annual gain.
What I find particularly significant about the Heffel catalogue is the overall conservative nature of the estimates. Right from the very first lot, Sybil Andrews' linocut Speedway, which has sold for $45,000 and $55,000 in the past year, the tone is one of caution with a $20/30,000 estimate well below market value and, I am sure, the saleroom's real expectations. Perhaps the saleroom is being cautious in light of the current uncertainties in the financial and investment markets, or maybe it is just great marketing. Whatever the reason, it certainly sets the scene for several above estimate prices once the final gavel falls on this May 22 sale.
Another case in point are the three sketches by Tom Thomson in the sale. With Thomson's recent prices for 8.5" x 10.5" panels in the $800/1.5 million range it seems more than cautious to be offering works such as Tamarack Swamp, a colourful and busy landscape, at $400/600,000. Similarly, Poplar Point, Rock, Sun, a classic woodland scene is valued at $350/450,000 while the rather haunting Thunderstorm, 6.5' x 6.5" is estimated at $60/80,000. One might also cite Helen McNicoll's Watching the Boat, a 25" x 30" canvas from 1912 that should comfortable exceed $200,000 but has an estimate of $125/175,000. Works by Emily Carr, Frederick Varley, Cornelius Krieghoff, A.Y. Jackson, even Maurice Cullen all carry tantalizingly appealing estimates and should see lots of action.
Among the more 'minor' works that should garner lots of interest is Mabel May's colourful Village from the Hill valued at $18/22,000, and B.C. Binning's Coast Wise Signals from 1954 estimated at $15/20,000, while Anne Savage's double-sided oil on board of Totems Poles/Mountain Landscape from 1927 should see bidding everywhere at $12/15,000. Clarence Gagnon, Marc- Aurele de Foy Suzor-Cote, Edwin Holgate and David Milne all have excellent examples of their work in this sale and while it may not come close to the $20 million + of recent sales I think we can be sure it will do considerably better than the $7/9 million pre-sale estimate it carries.
Highlighting the Sotheby's/Ritchie's May 26 sale is a powerful and impressive sketch of Pine Trees at Sunset from Tom Thomson estimated at $900,000/1.1 million (no holding back here!). A Cape Mudge totem from Emily Carr at $400/600,000 is also impressive, as is Franklin Carmichael's La Cloche Hills, a 10" x 12" panel valued at $250/350,000. A strong selection of works from Kathleen Moir Morris is being offered with Waiting, 24" x 30" the pick of the bunch at $175/275,000. A small Harris sketch, 12" x 15", of North Shore, Lake Superior carries a $300/500,000 estimate, while Maurice Cullen's Commandant's Point, Lac Tremblant, 24.5" x 32.5" from 1922 carries an estimate of $100/125,000.
A feature of this sale is definitely the continuing focus by this saleroom on the modern and contemporary schools. Marcelle Ferron, Alfred Pellan, Jack Shadbolt, Ivan Eyre, Jack Bush, Harold Town, Jean McEwen, Tony Scherman, Attila Lukacs, Paterson Ewen and Kazuo Nakamura are all well represented. Of special interest to west coast collectors is a fine B.C. Binning work from 1960. Black Reflection, 26" x 35" is estimated at $30/40,000. It's hard to imagine the high pre-sale estimate for this auction will not also be seriously challenged given the works on offer.
Across town Joyner has put together another strong sale for May 27 & 28, highlighted by a Tom Thomson sketch that was a late addition to the auction. View from a Height, Algonquin Park, Fall, painted in 1916 (illustrated upper right) is a very powerful work and deservedly carries a powerful $800,000/1.2 million estimate, the highest estimate of the spring season. Several other lots in the sale have their estimates in the six figure range, including two by Lawren Harris. Algoma from 1920 is estimated at $75/100,000 while Algonquin Park from 1916 is valued at $80/100,000. Topping both of these is Robert Pilot's Quebec in Winter, 28" x 36" painted circa 1938 which carries an estimate of $125/150,000. Also looking for a big pay day is Cornelius Krieghoff's Going to Town, 13" x 18" valued at $80/100,000.
There is a number of appealing mid-range works in this sale. Among them is Lawren Harris' Moose Lake, Haliburton, an 8" x 10" oil on board from 1929 that should do better than its $40/50,000 estimate. A.Y. Jackson's Quebec Village, Winter, 8.5" x 10.5" painted circa 1925 should certainly test its $30/40,000 estimate as should J.E.H. MacDonald's Leaves and Flowers, 8" x 10" a delightful still life valued at $30/50,000. Another work likely to catch a great deal of attention is Sybil Andrews' Racing linocut from 1934 estimated at $30/40,000. A possible sleeper in the sale's second session might be the Cathcart Album, a selection of several works on paper pertaining to Lord Cathcart and Lord Elgin, Governors General of Canada. The 60 or 70 pieces in this lot are estimated at $5/7000.
For the first time Bonhams, the world's third largest auction house is holding a sale in this country. The saleroom will be offering Canadian and European paintings on June 19. Highlighting the Canadian session is a watercolour by Peter Rindiscbacher (1806-1834). A Dog Cariole, 6.5" x 11" is estimated at $80/120,000. Also on tap is a 39" x 28.5" canvas from Jean-Paul Riopelle from 1955. Le Chant de l'Alouette is estimated at $125/150,000. Carrying a $90/120,000 estimate is Jean-Paul Lemieux's L'Isle aux Coudres, a 18" x 50.5" canvas, while a large 51.5" x 38" Marcelle Ferron canvas is another of the highlights. Le Gypaete Pourpre is estimated at $70/90,000 while Marc-Aurele Fortin's St. Rose, Quebec, a 22" x 28" oil on board carries a $80/90,000 estimate.
Elsewhere across the country Levis Auctions in Calgary has already held its sale (see separate report) while the other regional rooms have yet to post their spring selection.
All in all therefore, a good season ahead with some excellent pieces and, no doubt, some new auction records in the offing, but it looks like we'll fall short of the $30/35 million we need to keep the hot annual sales streak alive! Unless, of course, a small miracle…