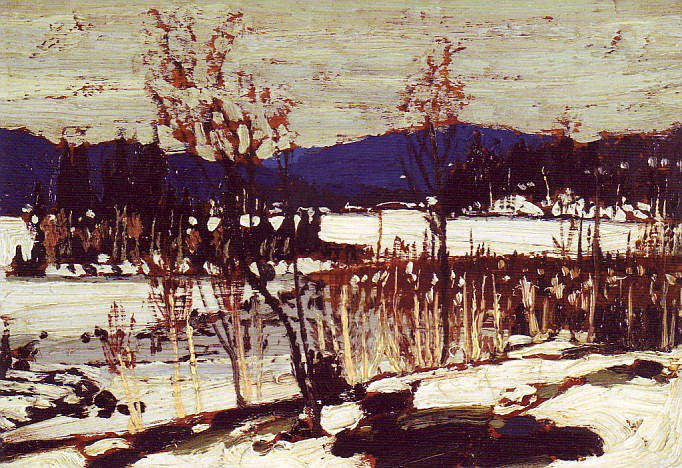 Toronto (15/12BP) – A strong first session helped Joyner Fine Art to a two session total of $4.7 million in their major fall auction of Canadian art November 20th and 21st. Despite a relatively high buy-in rate of around 27% there were still several impressive prices with the undisputed highlight a Tom Thomson sketch from 1917. Estimated at $300/400,000 Winter Thaw, a 5" x 7" panel (illustrated right) set a new record for the artist when it sold for a phenomenal $1,463,500 eclipsing the artist's old record set just last year by $400,000.
Following on the heels of Sotheby's record Fortin price the day before, Joyner offered a smaller but equally impressive canvas of Chaumiers Canadienne, 36" x 34", with a $200/250,000 estimate. It sold for $427,500. Two paintings picked up bids of $97,500. A.J. Casson's The Little Waterfall, 20" x 24" from 1940 carried an estimate of $50/70,000 while Jean Albert McEwen's Arc-en-Ciel Rouge, 60" x 40" from 1962 was estimated at $30/50,000. McEwen's Midi d'Orange, a 64" x 60" canvas from 1964 sold within estimate for $46,000. Another Casson, this time Archway in Bancroft, 24" x 30" painted c.1955 sold on its high estimate at $62,100.
A.Y. Jackson's The Shore Road, a 24" x 30" canvas estimate at $80/100,000 fell just short of the mark at $74,750 but the artist's October, Canoe Lake, a 1914 sketch did well with a mid estimate bid of $43,700. E.J. Hughes's The Freighter "World Ares" at Crofton, 32" x 39.5" from 1980 did better than expected with a bid of $92,000 against a $50/75,000 estimate.
A busy and appealing Winter Morning, Haliburton Village by Ethel Curry was always destined to do better than its $2/3000 estimate. And it did, the 11.5" x 13.5" panel from 1942 finding a buyer at $16,100. Emily Carr's watercolour of a French Girl, 20" x 12" painted c.1911 exceeded its expectations of $40/60,000 with a bid of $74,750, while Sam Borenstein's St. Lucie, Winter picked up a bid of $26,450 against a $12/15,000 estimate.
Frederick Banting's Mountain Range, an 8.5" x 10.5" panel sold on its high estimate for $20,700, Yvonne McKague Housser's An Abandoned Farm, an 8.75" x 10.75" panel from 1927 doubled its estimate with a bid of $11,500, while Marcelle Ferron's Abstract, a 40" x 32" mixed media from 1975 found a buyer at $18,400 against a $12/15,000 estimate.
Joe Rosenthal's Ladies on a Bench, a 40" x 32" bronze sculpture did well with a bid of $29,900 against a $20/25,000 estimate, while a small J.E.H. MacDonald sketch of Meadowvale sold on its high estimate at $20,700.
Other prices of note on the first night include a bid of $26,450 for Jean-Paul Riopelle's untitled gouache from 1962, $36,800 for David Milne's drypoint etching entitled Still Water and Fish, $52,900 for Robert Pilot's St. John's, Newfoundland canvas, 24" x 32", and $46,000 for A.Y. Jackson's October, Canoe Lake, 1914. Also doing well was Marc-Aurele de Foy Suzor-Cote's bronze Le Portageur which sold for $39,100 against a $20/25,000 estimate. Two other Suzor-Cote bronzes also performed up to expectations. Le Vieux Pionnier Canadien fetched a mid estimate $23,000, the same price realised for La Compagne du Vieux Pionnier.
Although Joyner's second session is usually reserved for more minor works, it still manages to secure some strong prices as was the case on November 21st. Thomas Hodgson's Objects with Bottle, a 16" x 20" canvas from 1957 carried an estimate of $18/2200. But, as a member of the Painter's Eleven it was always on the cards that it would do better, and it did, finding a buyer at $21,600. A portrait of E.P. Taylor by Kenneth Forbes was another strong performer, picking up a bid of $15,600, four times estimate, while a definite surprise was the $37,200 bid for Terrence Cuneo's Royal Show, a 34" x 44" canvas from 1950 that was estimated at $4/6000.