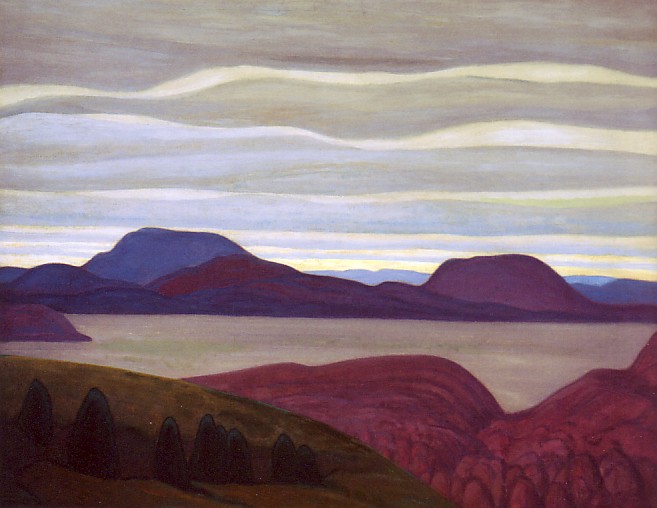 Toronto (15BP) – It wasn't the $23 million plus they were hoping for, but at $19 million plus the Heffel fall 2007 auction of Canadian art on November 23rd still became the second most successful auction of Canadian art ever held. The sale also kept the Vancouver based auction house firmly entrenched as Canada's number one salesroom, their fall total being greater than the combined totals of their two nearest competitors. In total, with buyer's premium, there were five paintings that topped the million dollar mark, itself a record for a Canadian sale.
Despite such a stellar sale there were still some notable disappointments, most prominent of which was the work of Emily Carr. Usually considered money in the bank, especially in this salesroom, there were no less than four major Carr's that did not sell on the night. Another casualty was the work of Cornelius Krieghoff with again four important works failing to find buyers.
But there were enough great prices to compensate for these market 'dips', and the greatest of them all was a bid of $1,782,500 for Lawren Harris' Grey Day, North Shore, Lake Superior, a 40" x 52" canvas from 1923 (illustrated right) estimated at $800/1,200,000. The Harris was the highest selling price for the entire fall season, and became the sixth most expensive Canadian painting to sell at auction according to statistics in the 2008 edition of the Canadian Art Sales Index.
The second most successful painting on the night, and setting a new record for the artist, was David Milne's Snow Patches, Boston Corners, NY. Painted in December 1917 and carrying an estimate of $400/600,000 the painting soared under intensive bidding to an astonishing $1,437,500 – the first Milne to break one million dollars at auction.
Also breaking the million was another Harris, this time it was Houses, a 30.5" x 32.5" canvas from 1913 that was estimated at $800/1,200,000. It sold for $1,380,000. Making up the five 'millionaires' were two works from the brush of Tom Thomson. Northern Lights, a heavily impastoed 8.5" x 10.5" panel dated Spring 1917, the year of the artist's death, was expected to surpass its $750/950,000 estimate and it did with a bid of $1,150,000. Somewhat of a surprise was the $1,006,250 paid for Thomson's Wild Cherry Trees in Blossom, an 8.5" x 10.5" oil on board from c.1915, that carried a $400/600,000 estimate.
Two other Thomson sketches also posted solid results. Woodland Interior, Algonquin Park, from 1915 fetched $546,250 against a $350/450,000 estimate, while Smoke Lake picked up a mid estimate bid of $517,500. Arthur Lismer's 21" x 26" canvas of Dark Pine, Georgian Bay, painted in 1950 did well when it found a buyer at $241,500, well above its $125/150,000 estimate, and Edwin Holgate's figurative work showing his wife on a balcony in Sanary, France, tripled its $40/60,000 estimate with a bid of $149,500.
The top price for a contemporary work was reserved for Jean-Paul Riopelle's Le cirque, a 28.5" x 39.5" canvas from c.1956 that sold for $632,500, well above its $200/300,000 estimate. Riopelle's Peinture III, a 32" x 25.5" canvas from 1964 also performed above expectations taking a bid of $207,000 against a $60/80,000 estimate. Jean McEwen's Les continents fleuris no. 23, a 40" x 36" canvas from 1974 did extremely well when it found a buyer at $92,000, three times estimate, and a Lawren Harris abstract, LSH #90, 32" x 40", fetched a high estimate $287,500.
Helen McNicoll's The Foot Bridge, Venice, an 18.5" x 16.5" canvas from c.1910 realised a solid $109,250, double the low estimate, while Franz Johnston's Building the Breakwater, 30" x 43", fetched a double high estimate $69,000. The market also took a shine to F.M. Bell-Smith's Glacier Cascade, Selkirks, B.C. an 18" x 24.5" watercolour that sold for $23,000 against a $6/8000 estimate.
J.E.H. MacDonald's A Sandy Beach, Lake Ontario, 16" x 20" from 1918 fetched a within-estimate $322,000, while a vibrant sketch for the same painting sold for a mid estimate $126,500. Still with the Group, Frederick Varley's Misty Day, West Coast, 12" x 15" c.1928 fetched a mid estimate $207,000, and A.Y. Jackson's Sane Lake, Algoma/An Algoma River, a double-sided panel from 1921 proved popular with a bid of $86,250 against a $30/40,000 estimate. Emily Carr's Masset, QCI, a 14.5" x 19" canvas from 1912 topped its mark with a bid of $345,000, while her Arbutus Tree/Untitled Portrait, a two-side canvas c.1913-20, fetched $546,250 against a $5/700,000 estimate.
Other prices of note among so many include a bid of $230,000 for E.J. Hughes' Looking South over Cherry Point estimated at $100/150,000, and $54,625 for Sam Borenstein's Summer, 20" x 32" estimated at $25/30,000. A delightful still life of Roses in a Black Vase by Frederick Coburn was popular when it sold for $25,875 against a $4/6000 estimate and undoubtedly the surprise of the night was A.Y. Jackson's Indian Houses, Burwash Mine – Yellowknife, NWT. The 10.5" x 13.5" panel from 1951 was estimated at $12/15,000, and based on other Jackson prices on the night, should have sold close to estimate. But obviously two NWT residents thought otherwise and took the sketch to $74,750.