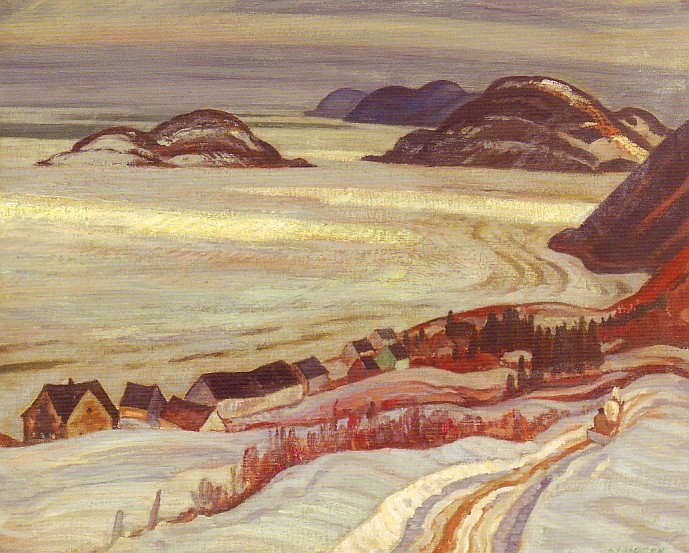 Toronto (15BP) - A two-session auction of 650 lots brought in a total of $5.5 million at Joyner Waddington's May 29 & 30, with most of the action and high prices reserved for the first session of 274 lots. The sale produced seven lots in excess of $100,000 with just under 24% on the first night being bought in. Taking the honours as the most expensive piece in the sale with a bid of $477,900 was A.Y. Jackson's Sun Gleams near Bic, a 21" x 26" canvas estimated at $200/250,000 (illustrated right). Also doing well was the artist's Ste-Cecile de Masham, Que., a 21" x 25" canvas from 1949 that realized $207,000, more than double its mid estimate. A winter sketch Near Weir, Que. also did well when it sold for $52,900 against a $15/18,000 estimate.
Two works posted prices of $298,700. A Lawren Harris sketch of Emerald Lake, Rockies fell short of its $400/600,000 expectations, while Paul-Emile Borduas' Vibrations Grises, a 32" x 42" canvas from 1954 exceeded its $200/250,000 estimate.
Finding a buyer at $138,000, well above its $30/40,000 estimate was William Kurelek's Children Playing in a Snowbank, an 18.5" x 20" mixed media from 1971. Another of the top performers was a Franklin Carmichael watercolour, Howry Creek, La Cloche, from 1938. Estimated at $40/50,000 the 10" x 13" image sold for $115,000.
Among several other works worthy of mention was a bid of $18,400 for Carl Schaefer's Crooked Lake, Haliburton, a 12" x 14" oil on board estimated at $3/5000. Arthur Lismer's Landscape in Summer, 24" x 20" doubled its estimate with a bid of $80,500, John Little's Sunday Afternoon on Mt. Royal, 30" x 36" sold for $36,800, comfortably above its $15/20,000 estimate, and David Milne's Lumber for the House, a 14" x 20.5" watercolour from 1921 fetched $86,250 against a $40/60,000 estimate.
Greg Curnoe's Mariposa T.T., a 42.5" x 67"serigraph found a buyer at $34,500, and Maurice Cullen's Clear Winter's Day, Laurentians, 15" x 18", fetched an above estimate $59,800. In keeping with the recent popularity of Marcelle Ferron's work, a 6" x 8" abstract canvas estimated at $6/9000 sold for $14,950, while Kazuo Nakamura's Power Structure #2, a 15" x 21" canvas estimated at $10/15,000 found a buyer at $24,150. Another artist whose popularity is on the rise is Rita Letendre. Echo, a 24" x 30" canvas from 1963 sold for almost three times estimate when it found a buyer at $20,700, while Symbole, 32" x 39.5" from the same year picked up a bid of $24,150, more than double its high estimate. Outperforming them both, however, was L'Espace d'un Moment, 31.5" x 35.5" from 1962 which realized and impressive $32,200 against an $8/10,000 estimate. And for Painters Eleven fans, Walter Yarwood's Sound, Frozen a 28" x 36" canvas from 1956 sold for $18,400 well above its $3/5000 estimate.
The second session of 374 lots was reserved for works under $10,000 and more predominantly under $2000 and offered collectors and investors on limited budgets an excellent opportunity to acquire some fine quality Canadian works at still very affordable prices.