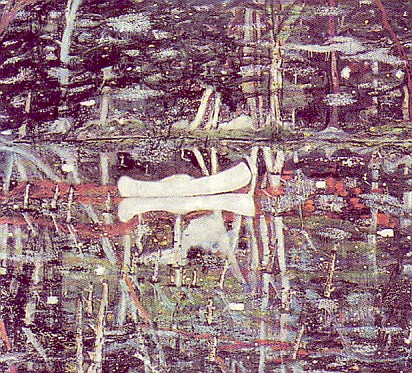 A painting of an abandoned white canoe in the middle of a forested lake recently sold at Sotheby's in London for $13 million, five times its pre-sale estimate. Tom Thomson you ask? No, although certainly Thomson-inspired. It was, in fact, painted in 1991 by Peter Doig. Peter…who? Doig!
Don't feel bad if the name doesn't ring a bell with you. While the artist has not come from obscurity to stardom overnight, he certainly hasn't enjoyed the headlines of some of his contemporaries such as Hockney and Freud. And yet here he was selling for $13 million, a price that made Doig the most expensive living artist in Europe.
Here's the fun bit, however. Mr. Doig, although born in Edinburgh in 1959, was raised in Quebec and Ontario from childhood to maturity! Some reports say he came here in 1960, others say 1966, but who's counting? Given that any artist from as far back as the 17th century to the present day if he even set foot on Canadian soil is instantly cast as Canadian, we have to conclude that "childhood to maturity" constitutes enough time to classify Mr. Doig as Canadian also.
And if we needed further evidence, the artist has frequently attributed his artistic vision to a direct experience of the Canadian wilderness and the influence of Tom Thomson and the Group of Seven. He even said, during a 2001 exhibition of his work at the National Gallery of Canada that Tom Thomson and the Group of Seven are "so ubiquitous" in Canada that he "had to get away from them" before he could fully appreciate their importance in the world of art. His subjects are typically colourful, wooded and mysterious, and have been described at some point as "the Group of Seven on acid."
Okay, this last part we don't want to delve into, but hey, what about the Group of Seven connection? You see where all this is going. Doig is Canadian! Canada can now lay claim to having the most expensive living artist in Europe. It's just a trifle that he no longer lives here – hasn't, in fact, since 1979 – and left Canada to go to art school in London, and that he is seen as British in the UK and probably Trinidadian in Trinidad where he now lives. He was here for close to 20 years and that means he's one of us, right?
Now we can really start tripping. Just imagine a single work by a "Canadian" artist selling for more than the most successful Canadian auction session on record. And what about this, a Canadian artist selling one work for the combined totals of Lawren Harris and Jean-Paul Riopelle for the whole of last season? Here's another, a living "Canadian" artist selling for three times the most expensive Canadian painting previously sold at auction?
The mind salivates at all the possible superlatives and permutations that Mr. Doig has given the Canadian art market. The question is can we use them? Is he really Canadian? Would he mind if we referred to him as Canadian? What if the British get snooty and denounce his Canadian-ness? What if he was asked to choose between Canada and the rest of the world and he didn't choose us? What if he had no affection for Tim Horton's and didn't know which end of a hockey stick to hold? What if he didn't end every statement with "eh?" eh?
It's all too formidable. We can't decide. Do we go for it and officially claim him as Canadian? Do we change the record books? Set up an Index just for him? Worship his every brush stroke? Scramble to put on retrospectives? Or should we just ignore him, perhaps pass a cursory glance over his work and toss out the odd "nice splash of colour there, Petie" and move on to those painters who said to hell with the rest of the world, Canada's where I'm going to stay, Canada's where I'm going to make it big?
Tough call!