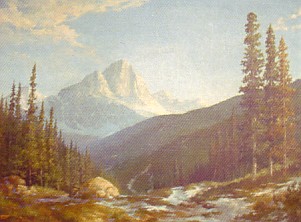 Calgary (10BP) – Galvins held their 69th semi-annual Art and Antiques auction October 30, 2006, and it produced some good prices among a relatively small selection of Canadian and international works of art. Sharing the honours for top lot were two works, one attributed to Cornelius Krieghoff and the other by 19th century German artist Andreas Achenbach. Each sold for $7150. The Krieghoff was a scene of a Trapper Returning at Sunset, 11" x 9", and the Achenbach was of a Mountain Waterfall, 26" x 21".
A large oil, 46" x 60", by Norman Brown (illustrated right) of Mount Stephen did well with a bid of $2200, while a Claude Langevin canvas, 20" x 24" En route pour le bois, fetched $2530.
A Georgia Jarvis Autumn Lane scene, 20" x 30", found a buyer at $2750, and George Horvath's Autumn Morning in Kananaskis, 22" x 34", realised a solid $2640. Also doing well was A Miniature Tangle of Wild Beauty, a 24" x 18" pastel by Horace Champagne that sold for $2420.
Other prices of note include a bid of $1210 for Allen Sapp's Just Getting Home, 12" x 14", $1485 for George Horvath's Mountain Dawn, 18" x 24", and $1650 for the artist's Prairie Morning, 18" x 24". A bid of $1815 was taken for a bronze sculpture entitled Top Hands standing 15" by Linda Stewart and $1540 for the artist's Friend Forever, at 14.5".
A rare bronze plaque for the Calgary Stampede All Round Champion Cowboy by C.A. Beil was a crowd pleaser at $1870, and a Charles Russell bronze of The Round Up also did well with a bid of $2420.