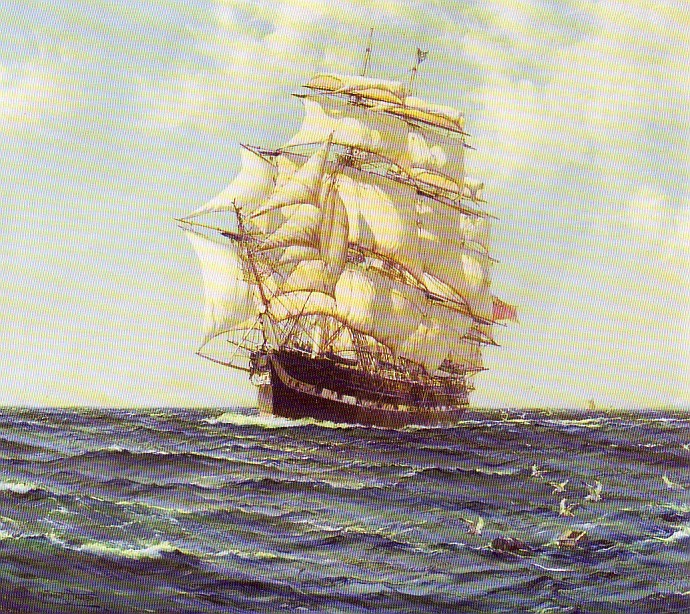 Toronto (20BP) – A classic Montague Dawson seascape and an equally classic Edward Cortes Parisian street scene were the star lots at Ritchie's session of International Art December 7, 2006. Each sold for $38,400. The Dawson (illustrated right), a 28" x 32" canvas titled Home Again, carried an estimate of $40/60,000, while the Cortes was a night scene Vue de la Madeleine, 15" x 22" that was estimated at $20/30,000.
Despite some strong prices the sale overall was seemingly not well received by the market with around 47% of the lots offered failing to find buyers. The sale opened well with a mid-estimate bid of $6900 for a James Webb canvas, 21" x 36.5", of Unloading the Catch. Staying with the British school, Allan Davidson's Nude Reclining against a Tree, 9.5" x 7.5" doubled its expectations with a bid of $6720, and Edward Seago's Rue Gomes Freire-Cascais, a 12" x 16" oil on board picked up a $12000 bid against a $10/15,000 estimate. A similar estimate was placed on Reg Butler's Girl Tying Back Her Hair, a 13.5" bronze sculpture, and it did well with a bid of $13,800.
Among the French works offered was Noel Bouvard's Venice – Le Rialto, 20" x 26" which did well with a bid of $33,600 against a $20/25,000 estimate. A disappointment in this segment was the failure of two gouaches by George Rouault, each with $25/30,000 expectations.
An acrylic on paper, 26" x 20.5" by Pierre Alechinsky titled Marche a pied sold just under estimate with a bid of $24,000, while a colour lithograph of Les Renoncules by Marc Chagall comfortably exceeded expectations with a bid of $20,400. A colour silkscreen of a Reclining Nude by Tom Wesselman also did well selling for $7800 against a $3/5000 estimate.
An interesting inclusion in the sale was a selection of more than 40 sculptures, maquettes and preparatory sketches from the Charles Rand Penney collection of which two-thirds found buyers. Prices of note include a low estimate bid of $24,500 for an untitled cast aluminum sculpture of an ear by Tomio Miki, $7200 for Midnight Disc II, a 50" bronze from 1962 by James Wines, estimated at $2/3000, and $16,800 for James Rosati's Study for Lippincott II, an 18.5" x 29" painted zinc construction from 1962 estimated at $8/10,000.
Perhaps the buy of the night was to be found at the beginning of the sale when George Sheridan Knowles' Haying Time, a 31" x 22" canvas estimated at $12/16,000 managed a bid of only $5400. It pays to be prompt!