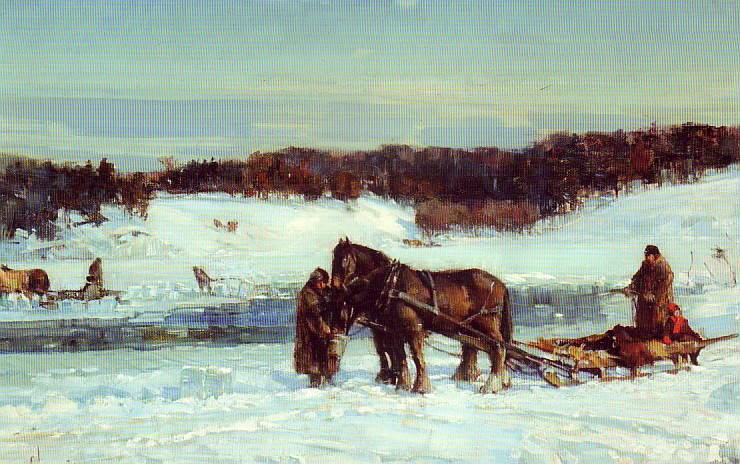 Ottawa (15BP) – Walkers closed out 2006 with a strong session of Canadian and international paintings, December 6, with a work by saleroom favourite Peleg Franklin Brownell stealing the honours for top lot. The artist's The Ice Harvest a 14" x 22" canvas from 1921 (illustrated right) carried and estimate of $50/70,000 but was always destined to do better. And it did, to the tune of $126,500.
Randolph Hewton's A Quebec Village, a 20" x 24" canvas painted c. 1925 and showing a village in a winter setting, did extremely well when it found a buyer at $40,250 against an estimate of $15/20,000. Picking up a surprise bid of $37,375 was Nora Collyer's double-sided 15.5" x 17.5" panel of Fall, Murray Bay; Still Life. The estimate was $7/10,000.
Rue St. Denis vers Montigny was the title of a 24" x 30" canvas by John Little that sold on it high estimate for $14,950. Finding a buyer at $10,350 was Henri Masson's The Hull Flood, Quebec, a 22" x 26" canvas from 1936 that carried an estimate of $4/6000.
Also of note among the Canadian works was a bid of $8625 for Marc Fortin's Sailboats & Picnic, a 10" x 14" oil on board estimated at $8/10,000, and $9775 for Salmon, Birds & Man, a 58" x 61" acrylic on canvas from Norval Morrisseau that was estimated at $6/9000.
Turning to the international offering, a major surprise was in store for the saleroom when Walter Langley's Evening at Polperro, Cornwall, a 14.5" x 10" watercolour went on the block. Estimated at $12/1600 and clearly undervalued it still came as a shock when it eventually sold for $20,700.
The New Baby was the title of a typical Bernard Pothast canvas, 20" x 24" that fetched a mid-estimate $17,250, while Cornelis Bouter's Pothastesque rendition of Feeding the Children, 20" x 24" found a buyer also mid estimate at $6900. Also of note was Alfred de Breanski Jnr.'s The Trossachs, Ben Aan & Loch Katrine, a 20" x 30" canvas estimated at $5/7000 but selling for $12,650 and another by the same artist, this time Cattle by a Highland Stream, 20" x 30", that sold for a high estimate $7475.