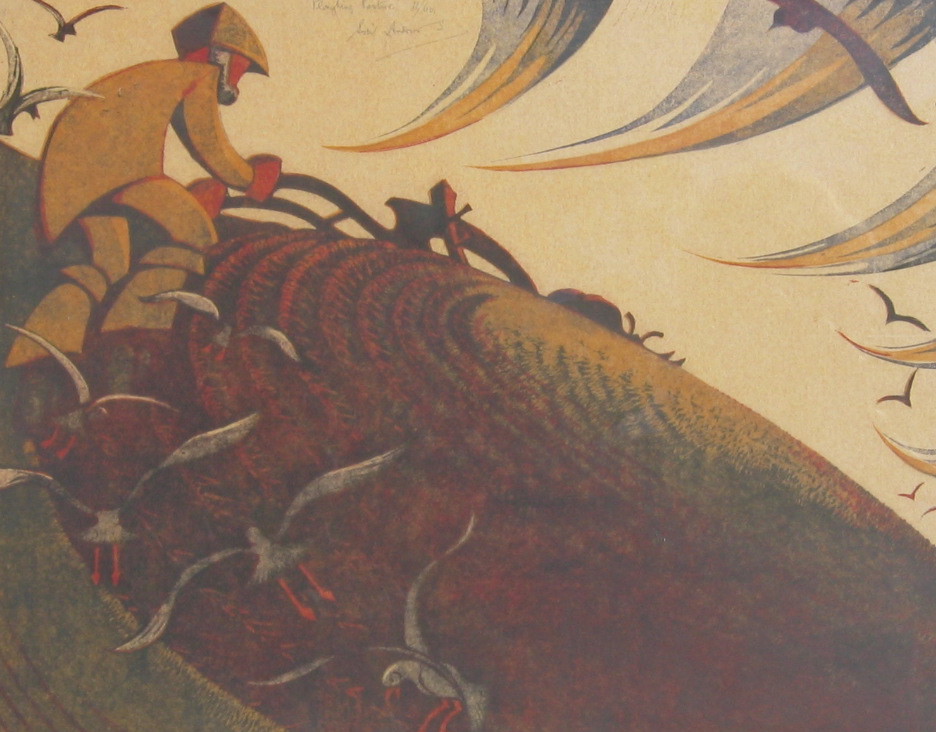 Vancouver (15BP) - A small session of Canadian and International paintings November 26 at Westbridge Fine Art Auction House turned in some solid prices despite falling on the worst snowstorm to hit the season in a long while. Highlighting the sale, and setting a temporary record for the image, was Sybil Andrews' Ploughing Pasture (illustrated right) consigned by the estate of the late B.C. artist, Sonia Cornwall. The 11.25" x 14.5" colour linocut, #11/60 from circa 1955 fetched an impressive $18,400, against a $6/8000 estimate more than doubling the previous record in the process.
A strong price was also realised for F.M. Bell-Smith's small but delightful watercolour of Westminster Bridge, Evening. It sold above estimate for $4830. Selling on its high estimate at $1265 was Haystack, a haunting 10" x 12" panel by William Winter, while Herbert Siebner's John's (sic) Lake Farm at the End of Summer, a 12" x 16" acrylic on canvas from 1991 fetched a mid estimate $2300.
Three small W.J. Phillips colour woodblock prints also did well. The Corral at Banff found a buyer at $1265, La Riviere fetched $1150 and Suburban Street realised $863. A Gordon Smith acrylic on paper, 18.5" x 27.5" of Trees did well with a bid of $3220, while Peter Clapham Sheppard's Winter on the Humber, a 10.5" x 13.5" panel sold within estimate at $1610.
Tom Forrestall's watercolour of Morris's House also sold mid estimate with a bid of $1265, the same price realised for Jack Shadbolt's small mixed media collage of a Witch's Doorway. Four 12" x 16" unframed panels by Alan Collier all found buyers, the top price going to Autumn Trees, Mulmur Township at $1150.
Taking the honours in a small session of international works was a bid of $5060 for Alfred Fontville de Breanski's Above Aberfoyle, a 16" x 24" canvas estimated at $4/6000. American artist Irving Bacon's In the Shade, a 24" x 32" canvas from 1908 found a buyer at $4000, while another American piece of People in a Wooded Parkland, 14.5" x 12.5" signed Nash picked up a bid of $1725. Pal Fried's 30" x 24" Flamenco Dancer sold for $1495 while a charming Village in Moonlight watercolour, 10" x 14" by A. Moulton Foweraker did well when it found a buyer at $2760.