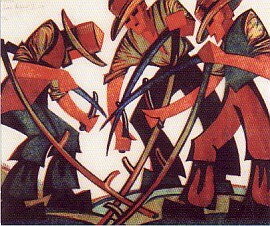 Calgary (15BP) - Levis Auctions hit the gavel running in their November 12 fine art auction, securing the top price of the sale with the very first lot. Sybil Andrews' Mowers, (illustrated right) a colour linocut, #8/60 sold for $15,525 against a $7/9000 estimate. The artist's Indian Dance also did well finding a buyer at $4600 against a $2/2500 estimate. Overall the almost $400,000 sale was just under 80% sold with the average sale price close to the high end of the estimate.
A Maxwell Bates Still Life, oil on board, 20" x 16" from 1974 topped its estimate with a bid of $5462, while a pastel portrait of an Indian, 16.5" x 11.5" by Nicholas de Grandmaison just missed its mark with a bid of $8625. Further endorsing the current strength of the Inuit art market Nuna Parr's dark greenstone sculpture of a dancing bear fetched an above estimate $8050.
Another hot commodity on today's market is the work of Doris McCarthy. In this sale the artist's Petite Riviere, 1933, a 10.5" x 13.35" oil on panel sold for $9775, well above its $5/6000 estimate. William McElcheran's The Mediator, #8/9, a 29" x 11.5" bronze sculpture, was the pick of four pieces on offer, finding a buyer at $11,500, just under its $12/15,000 estimate. A large 48" x 36" acrylic on canvas of Shaman with Rattle by Norval Morrisseau was keenly contested to a mid-estimate bid of $13,800, while Medicine Wheel, 30" x 30" picked up a bid of $6325, just under estimate.
Staying with the Woodland School, Daphne Odjig's The Shaman, a 36" x 24" mixed media on board from 1969 fetched an impressive $7475 against a $4/5000 estimate. Popular local artist Janet Mitchell was also in demand on the night with her Fun in the Street watercolour, 22" x 29.5" from 1988 fetching $7475 against a $4/5000 estimate. A good performance was also turned in by Robert Pilot's Gaspe, 19" x 23" from 1956 which found a buyer at $10,350, just over the high estimate.
Bob Boyer's Wake-Up Wovoka – I'm Tired of Columbus and I hear Your…, a 71" x 49" acrylic on canvas from 1991 fetched $6325 against a $4/5000 estimate, and Kenneth Lochhead's Centre Beach, a 20" x 26" enamel on paper from 1962 found a buyer at $5750, well above its $15/2000 expectations.
Among a selection of international works on offer was Irish artist Maurice Canning Wilks's Sheephaven Bay, Co. Donegal, a 24" x 32" canvas estimated at $6/7000. It sold for $13,800. Also doing well was Carnaval de S. Peterborg, a 57.5" x 44.75" canvas by modern Russian/American artist Mihail Chemiakin. Estimated at $6/8000 it sold towards the high end with a bid of $7475.