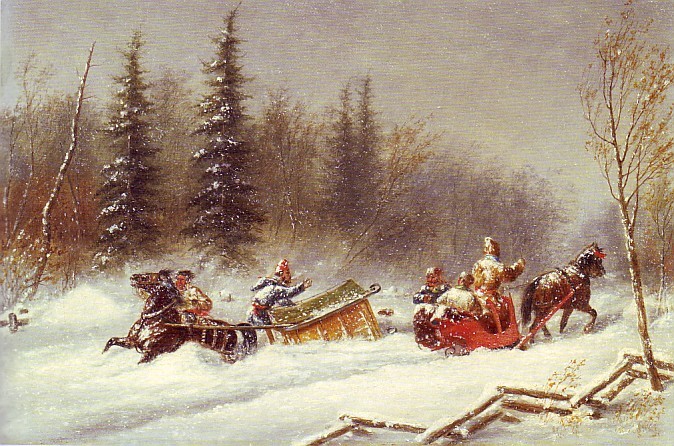 Toronto (15BP) – A strong opening night session that saw seven works top $100,000 helped Joyner Waddington's to a healthy $4.2 million two-session auction November 28 & 29. Taking the honours for the most expensive lot overall was Cornelius Krieghoff's Run Off the Road in a Blizzard, (illustrated right) a 12" x 18" canvas that sold for $309,900 against a $100/150,000 estimate.
It was a strong night overall for Krieghoff with the artist's Caughnawaga Indian Camp, a 14" x 21" canvas from c.1848 selling for $161,000 against an estimate of $50/70,000, and Indian Hunters in a Winter Landscape, 13" x 18", finding a buyer at $172,500, well above pre-sale expectations of $75/100,000. Falling within expectations at $69,000 were a pair of small 12" x 10" canvases showing an Indian Hunter and Squaw and an Indian Mocassin Seller.
Without doubt the most spectacular result of the night, however, was J.E.H. MacDonald's In Algoma, an 8.5" x 10.5" oil on board estimated somewhat conservatively in light of recent prices for the artist at $25/30,000. The market agreed and took the piece to $253,000. A late Group period sketch from MacDonald entitled View from Odaray Bench, Looking North, painted in 1929 was another firm favourite taking a bid of $138,000 against a modest $30/35,000 estimate.
Also bordering on the spectacular was Franz Johnston's The Bay, a 13.25" x 10.25" oil on board that was exhibited in Toronto in 1926. Estimated at $15/20,000 it quickly rose to an impressive $82,500. And not far off the pace was Arthur Lismer's Sunglow, Forest B.C., a 22" x 16" canvas from 1962 that fetched $69,000, four times estimate.
A Lawren Harris Algoma Sketch CXI, 10.5" x 13.5" doubled its estimate with a bid of $161,000, while the artist's Lake Superior Sketch LXXXII found a buyer at $149,500 against an $80/100,000 estimate.
A.Y. Jackson's Keno City, Yukon, a 20" x 26" canvas sold well over estimate with a bid of $75,900, while J.W. Morrice's Cote d'Afrique, 9" x 13", circa 1912, sold within estimate for $40,250. Robert Pilot's Early Evening, Quebec, 18" x 24" did very well when it sold for $82,800, and David Milne's Rock in the Bay, a 12" x 14" canvas from 1935 comfortably exceeded estimate with a bid of $86,250.
Among several other prices of note are Doris McCarthy's Glachnaicudhain Range, B.C. that realized a four times estimate $16,100, Nora Collyer's Farm near Knowlton, P.Q., a 24" x 36" canvas from 1958 that fetched $62,100 against an estimate of $30/40,000, Marc-Aurele de Foy Suzor-Cote's bronze Le Vieux Pionnier Canadien that took a bid of $23,000, and the artist's canvas of Les Meules, 18" x 25.5" which fetched $27,600, four times estimate.
A.Y. Jackson's St. Tite des Caps, 8.5" x 10.5" took a double estimate $57,500, David Milne's Oak Leaves in Autumn, a 14" x 20" watercolour sold for $43,700, Marion Long's House on the Corner, 8.5" x 10", found a buyer at a three times estimate $17,250, while Sybil Andrews' Concert Hall linocut, estimated at $5/7000 rose steadily to a final price of $32,200 further emphasizing the continued world-wide interest in this artist. The artist's Storm also did well at $17,250, while Marcelle Ferron's Homage a Melville, a 6" x 8.5" abstract canvas estimated at $1/1500 picked up an impressive $14,950.