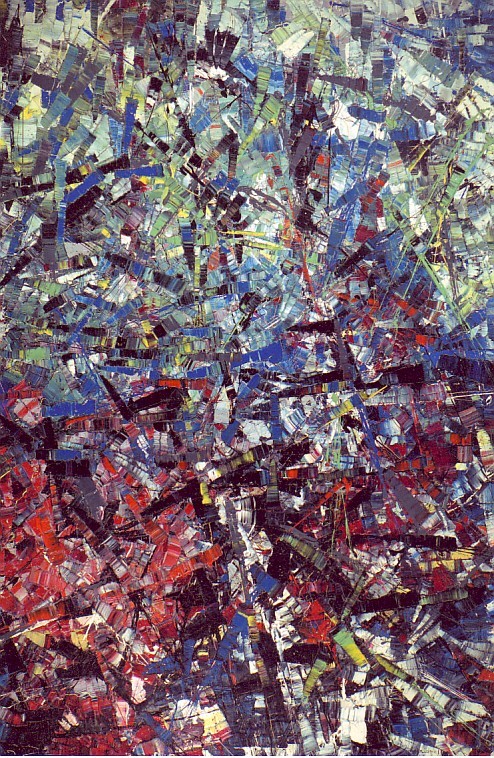 Toronto (15BP) – For the second time in a year Heffel Fine Art Auction House has produced a Canadian art sale in excess of $11 million, and in so doing has established itself firmly as the market leader. On November 24 in Toronto the Vancouver-based saleroom posted a near-record sales total of $11.8million, with just 8% of the lots offered failing to find a buyer. No less than 26 works sold for more than $100,000, foremost among them was the $1,667,500 paid for Jean-Paul Riopelle's Il etait une fois une ville, (illustrated right) a 76.5" x 51" canvas c. 1954-55 that was estimated at $750/950,000. Although not the top auction price for Riopelle this is the highest price recorded in Canada for the artist, and the top price overall for the fall season of sales in Canada.
Riopelle also showed his market colours with Le progress envahi par la foret, a 28.5" x 24" canvas from 1950 that sold for $402,500. Automatiste compatriot Paul-Emile Borduas was represented by Blanc printaniers, a 9" x 13" canvas from 1954 that fetched $103,500 against a $60/80,000 estimate. And a surprise was in store for the consignors of a Geometric Composition, a double-sided abstract canvas, 41" x 40", from Lawren Harris. Estimated at $60/80,000, and painted c. 1938 and 1956, it sold for $345,000.
A strong price was recorded for the work of Tom Thomson when his impressive Northern Lights, an 8.5" x 10.5" divided panel, c.1916 that carried a $275/375,000 estimate sold for a solid $776,250.
As you might imagine, several records fell on the night and not all were in the 6 figure column. A new Sybil Andrews linocut record was set, for example, when Concert Hall, the first lot in the sale, soared to $74,750 against a $10/15,000 estimate. And John Little fans saw a new record for their favourite artist also as Street Scene, Montreal, 12" x 16" went from its $5/7000 estimate to a heady $40,250.
Nora Collyer was another record setter as her double-sided oil on canvas Autumn, Eastern Townships, 26" x 28" climbed to an impressive $138,000, five times its estimate. Not surprisingly in today's market two sketches by Lawren Harris picked up healthy bids. Turtle Rock, Algoma, c.1920 fetched $195,500 and Big Rock,Algoma took a bid of $184,000 both against estimates of $100/150,000.
Fellow Group of Seven member Arthur Lismer's Georgian Bay Islands, 16" x 20" found a buyer at $103,500 well over its $20/30,000 estimate. Trees and Shrub, Georgian Bay also by Lismer sold for $74,750, almost four times its low estimate. And, not to be outdone, Frederick Varley's Interior of the Woods, Doon, a 12" x 15" panel, fetched $149,500 against a $15/20,000 estimate.
Double and triple estimate prices were fairly consistent throughout the evening and some did even better, as in the case of Maurice Cullen's Cab Stand at Night, Montreal. Reminiscent of The Bird Shop, St. Lawrence Street that sold this past spring for almost $1.5million, this 10" x 18" pastel on paper, painted c. 1912, was estimated at $12/16,000 but excited the market to the tune of $92,000. The artist's winter scene of Quebec City, View from Levis, 29" x 36" and dated 1904 lived up to its billing selling within estimate at $230,000.
With Alex Colville's stock rapidly rising it came as no real surprise when Kiss with Honda 12" x 24.5" from 1989 sold for $402,500 against a $200/250,000 estimate. A William Kurelek self-portrait fetched $126,500, and a new record was set for Jack Shadbolt when his Medieval Landscape, 32" x 48" sold for $54,625. Fellow west coast artist W.P. Weston tied his current auction record with Church Mountain, 36" x 44" when it sold for $115,000, while a somewhat stiff looking scene of The Discovery and Chatham in Johnstone Strait, a 25" x 32" canvas from E.J. Hughes didn't deter the market at all as it sailed to a whopping $241,500 against a seemingly modest $40/60,000 estimate.
The best of four Emily Carr's in the sale was Cathedral, a 32.5" x 22.5" oil on paper that fetched $345,000, double its high estimate. The Cove, 24" x 34.5" realized $138,000 and Beyond High Tide, 17" x 23" took a bid of $86,250.
Finding a buyer at $287,500 was Helen McNicoll's A Welcome Breeze, a 20" x 24" canvas c.1909 estimated at $200/250,000, while Picking Fruit, 32" x 26" picked up a mid-estimate bid of $276,000. Minding Baby was another McNicoll success, the 18" x 14" canvas selling for $184,000 against a $90/120,000 estimate.
A price of $287,500 was realized for Clarence Gagnon's Twilight in the Laurentians, Winter a 20" x 26" canvas c.1910 estimated at $200/300,000. David Milne's Autumn Hill and Dark Pines, a 20" x 26" canvas from 1930 left its $125/175,000 well behind when it sold for $264,500, as did A.Y. Jackson's Country Road, L'Islet, a 21" x 26" canvas from 1945 that fetched $161,000 against a $65/85,000 estimate. And picking up a bid of $126,500, double the high estimate, was Marc-Aurele Fortin's Le Pianiste, 48" x 28" from 1920.