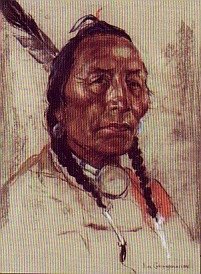 Calgary (15BP) – Enjoying one of their strongest sales in many years, Hodgins Art Auctions racked up a very healthy $770,000 by the time the gavel fell on the final lot of their two session sale November 27 and 28. Top honours in the sale were shared by two pastel portraits by Nicholas de Grandmaison, each selling for a new artist record. An untitled portrait of an Indian Brave,(illustrated right) 19" x 14" and estimated at $14/18,000 soared to an impressive $46,000, the same price realized for another untitled Indian Portrait, 26" x 20", estimated at $15/20,000.
A good price was also achieved for J.W. Morrice's Concarneau, a 5" x 6" oil on board, c.1910 that carried an estimate of $20/25,000. It sold for $39,100. A.J. Casson's Lake Mazinaw, an 11" X 13.5" watercolour from 1952 topped its estimate with a bid of $25,300 while Henri Masson's Snow in October, a 40" x 50" canvas estimated at $22/26,000 found a buyer at $21,850.
Dorothy Knowles's Quiet Day, a 46" x 80" canvas from 1996 sold mid estimate for $12,075. Illingworth Kerr's Turner Valley, 30" x 36" sold just under estimate for $8625, the same price realized for William Perehudoff's AC-75-7, a 30.5" x 93" canvas from 1975.
However, it was Perehudoff's AC-69-29, a 64.5" x 79" canvas from 1969 that stole the honours for the artist, picking up a bid of $20,700 against a $6/8000 estimate, and Sybil Andrews' Ploughing Pasture set a new record for the image when it sold for $18,975, double its high estimate.
Daphne Odjig's More Days to Dawn, an 18" x 14" acrylic on canvas from 1987 fetched a solid $7475, well above its $25/3500 estimate, and Roland Gissing's Yesterday-Today-Tomorrow oil on board, 30" x 24.5" fetched an above estimate $6900. Ernest Lindner's Emma Lake from the Shore, a 15" x 22" watercolour doubled its estimate with a bid of $7705.
A small selection of International works produced some good results, the best being a bid of $34,500 for American artist George Browne's Mallards Taking Flight, 24" x 36" estimated at $15/25,000. A bid of $11,500 was taken for Harold Piffard's Her Treasure, a 40" x 32" canvas estimated at $12/15,000, and John Christopher Bell's Ptarmigan, a 13.5" x 26.5" canvas c.1893, proved popular when it found a buyer at $7188 against an estimate of $14/1800. Also of note was a pair of 9.5" x 13.5" watercolours by Henry John Sylvester Stannard. The two pretty cottage scenes were estimated at $8/1200 but sold for $5175.