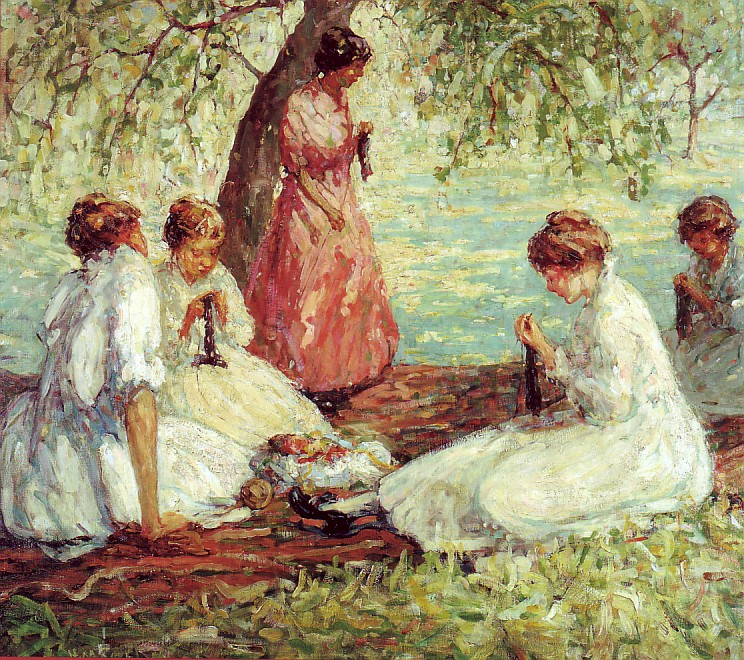 We can expect a far more subdued season this spring than was experienced last fall for Canadian art when the top three salerooms produced a massive $25 million total. This spring expectations are about half that, with no real blockbuster paintings to carry the flag. This said, a $12/15 million season is still not bad – it was a record-setting annual figure just five years ago - and, combined with last fall, will establish yet another annual sales record – and the tenth consecutive year that the market has grown in total sales.
Last fall Heffel Fine Art Auction House was the dominant salesroom, setting a new Canadian record for a single session when it racked up more than $12million. This year the saleroom again looks to have the upper hand going into the spring sales, with a pre-sale estimate for their May 25 auction of $4.6/6 million. Sotheby's/Ritchie's and Joyner Fine Art are not too far off the pace, posting pre-sale estimates of $3.4/4.6 million and $3.4/4.5 million respectively.
Heffel's sale features approximately 189 lots and, not surprisingly in light of some recent record performances, is well represented with works by Maurice Cullen, E.J. Hughes, Lawren Harris, and Emily Carr.
Top projected lot in this sale, and, indeed, the top estimated lot of the entire spring season, is Maurice Cullen's Sunglow on the Palisades, Lac Tremblant. The 23.5" x 37.5" canvas from the late 1920s is estimated at $350/450,000. Cullen's Evening Glow, near Lac Temblant, 24" x 32" circa 1926 is also expected to do well with an estimate of $100/150,000.
Several works by Lawren Harris are featured, the two most prized being Morin Island, Eclipse Sound, North Baffin Island, a 12" x 15" oil on board painted in 1930 and estimated at $200/250,000 and Mount Lefroy, circa 1929 with a similar estimate.
Saleroom favourite E.J. Hughes is also well represented. Of particular interest will be Passing Coast Boat, Looking North East from Gabriola Island, a 24" x 36" canvas from 1965 estimated at $150/200,000. Trees on a Point, Mill Bay, B.C., a 24" x 36" canvas painted in 1969 is another top work and valued at $125/175,000.
A good selection of contemporary works is led by Jean-Paul Riopelle's Sans titre, 32" x 39.5" from 1956 which carries an estimate of $175/225,000, while Paul-Emile Borduas' L'on a trop chasse, 24" x 20" from 1954 is expected to make $90/120,000. The artist's Vol horizontal, 9" x 13" from 1953 carries an estimate of $60/80,000.
Other works of note include Franklin Carmichael's Sketch 6, 10" x 12" from 1920 at $90/120,000, Paul Peel's Young Girl with Terrier, 21.5" x 28" from 1889 valued at $70/90,000, David Milne's Posing, a 17" x 21" watercolour from 1914 estimated at $90/120,000, and Kathleen Moir Morris's Study in White, Winter, Berthier, 24" x 20" which, with a pre-sale estimate of $80/100,000, could set a new record for the artist.
Sotheby's/Ritchie's sale May 29 is a morning session, starting at and will feature approximately 186 lots. Off particular note in this sale is the strong showing of contemporary and modern works that have become a fixture in recent Sotheby's sales.
However it is an impressionist work from J.W. Morrice that tops the sale expectations. The Harbour, 13" x 18", painted circa 1896 carries a pre-sale estimate of $200/250,000. Jean-Paul Lemieux' La Conversation, 41" x 67" from 1968 commands an estimate of $180/220,000 while David Milne's The Yard at the Glenmore Hotel, a 16" x 20" canvas from 1924 is expected to fetch $175/225,000.
An extremely ethereal looking Lawren Harris canvas, 48" x 60", entitled Figure with Rays of Light and recognized as an important 'bridge' work between his landscape and abstract work, carries an estimate of $100/150,000, the same price tag given to Emily Carr's Trunks and Glade, 24" x 24.5", an oil on paper laid down on masonite.
Other works of note include a magnificent H. Mabel May canvas (illustrated above right), 36" x 40" showing several young ladies Knitting beside a river. Estimated at $60/80,000 this piece could well see a healthy six figure hammer price and a new record for the artist. An Ivan Eyre acrylic on canvas, 56" x 63.5" entitled High Cliff is one of the higher priced modern works with an estimate of $50/70,000, while Marc-Aurele Fortin is well represented in the sale with several works, the top valued being Le Vieux Moulin, 24" x 35.5" estimated at $100/120,000.
At the other end of the spectrum I particularly like Thomas Garside's The Red Coal Truck ($4/6000), and Jack Bush's Engine House ($10/15,000).
Joyner's sale May 30 & 31 is a two session affair with approximately 648 lots, 274 appearing on the first night. Leading the way is a wonderful gouache on silk winter scene by Tom Thomson. Melting Snow, 13.75" x 21.75" is authenticated by J.E.H. MacDonald and carries an estimate of $200/250,000.
Franklin Carmichael's Spring, Frood Lake, a 10" x 12" oil on board from 1939 is valued at $125/175,000 while the artist's July, 9.75" x 12" from 1936 carries a $100/150,000 estimate. A Cornelius Krieghoff canvas, 12" x 18" of Habitants Driving is estimated at $75/100,000, while a Lawren Harris oil on board, 10.5" x 14" of Mountains, Jasper is expected to fetch $75/125,000.
Stepping a little outside the norm – refreshingly – are three interesting works well worthy of mention. The first is Robert Reginald Whale's expansive and intriguing 30" x 48" canvas showing a Panoramic View of Niagara Falls with a Michigan Central Railway Train. It carries a $50/60,000 estimate and is certain to set a new record for the artist. Then there is George Agnew Reid's Toronto Waterfront, another intriguing panoramic canvas, this one 24" x 36" and painted in 1886. It is estimated at $70/90,000 and, again could set a new record for the artist. Finally there's Lucius O'Brien's Black Cape, Bay Chaleur, a 20" x 30" canvas from 1877 estimated at $50/70,000 and yes, almost certainly a new artist's record.
Joyner's second session has some wonderful pieces attractively estimated that should appeal to both new and established collectors alike. I find works such as Frederick Brigden's Spring Meadow ($8/1200), and William St. Thomas Smith's Village Scene ($8/1200) appealing and excellent value.
All in all, therefore, a strong but not spectacular season with an excellent selection of mid to lower end works, a strong representation from the contemporary and modern schools, and a good compliment of 'special' paintings that will almost certainly claim the post-sale headlines.