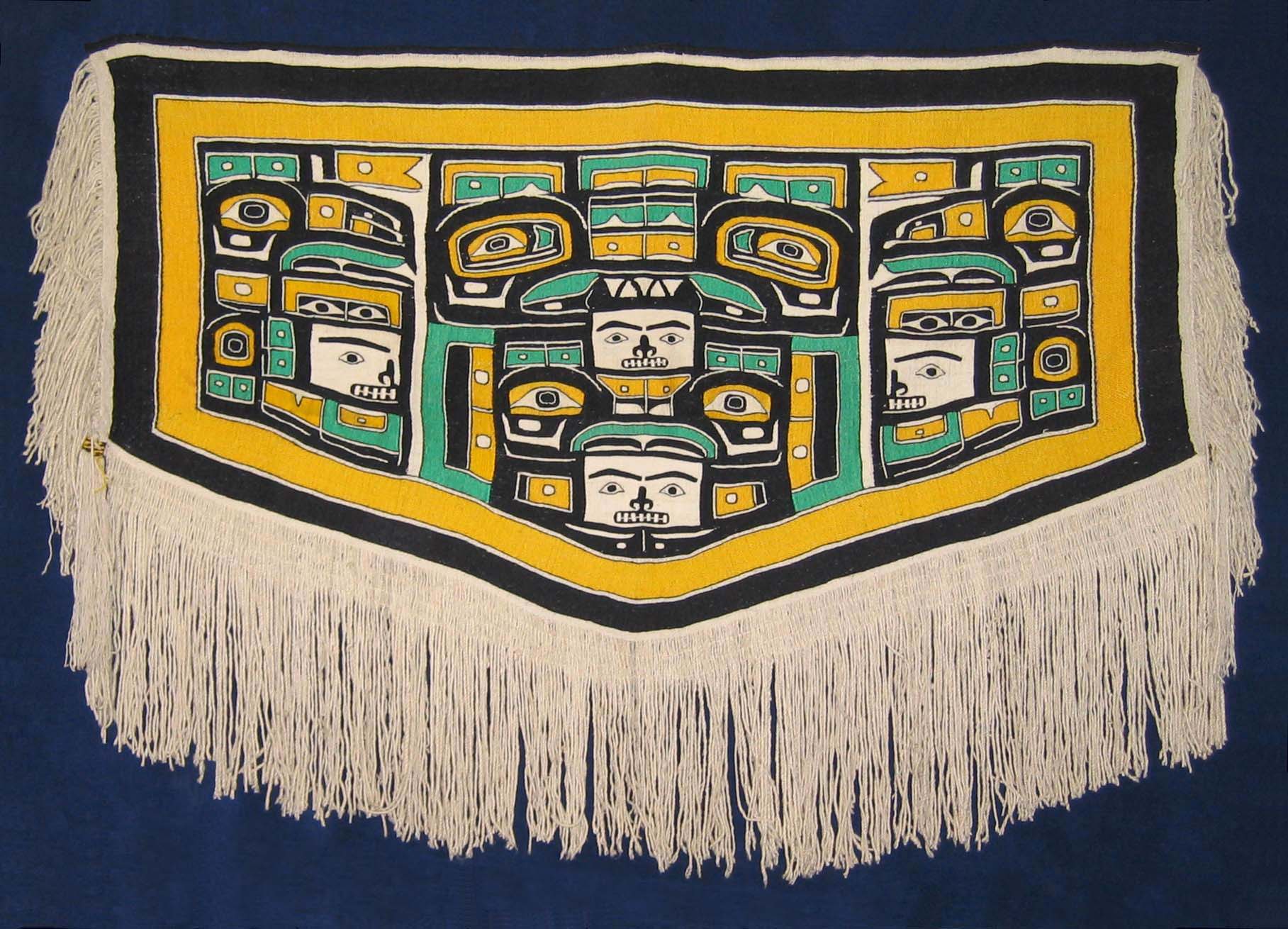 Vancouver (15BP) – A small session of less than 100 Canadian and International paintings produced some solid results at Maynards, March 29, but it was a 19th century blanket (illustrated right) that stole the sale honours. Sewn by Mary Ebbetts matriarch of the renowned Hunt family of carvers and artists, the 19th century Chilkat blanket, 61" x 33.5" was estimated at $30/35,000. The rarity and quality of the piece, however, took the bidding to an exciting and record-setting $92,000.
Among the paintings the top lot of the sale was reserved for a watercolour by 19th century German artist Guido Bach. Summer Fun, a 15.5" x 19.5" image painted in 1881 sold for $4600 against an estimate of $2/3000. A red chalk drawing of Two Male Nudes catalogued as Circle of Benedetto Luti (Italian, 1666-1724) sold on its low estimate with a bid of $4025, while undoubtedly the $32 million Turner that sold in New York recently had an impact on Sunset on the Rhine, a 9.75" x 14.5" watercolour catalogued as after J.M.W. Turner. It sold for $3450 against a $6/800 estimate.
Also of note among the international works was a mid-estimate bid of $2875 for Red Sky, a 24" x 36" canvas by modern British artist Fred Uhlman.
Log Rollers was the title of a 22" x 26" canvas by Canadian artist Edley Allen Burton (1901- ), and the top price of five works by the artist in this sale. It sold for $4370 against a $4/6000 estimate. Allen Sapp's Making Fence Posts – Sweetgrass Reserve, 18" x 24", fetched and above estimate $2300, while Inside Log House – Sweetgrass Reserve, 16" x 20" picked up a bid of $2415 against a $1/1500 estimate. Robert Genn's Entering Alkali Lake Ranch, 16" x 20" fetched a high estimate $1495, and Molly Bobak's A Park in Paris, 17.5" x 14", sold for $2300 against a $2/3000 estimate.