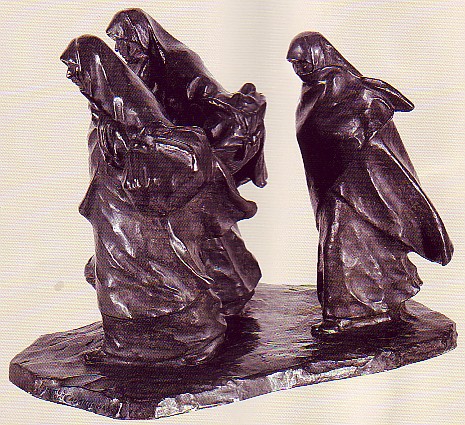 Calgary (15BP) – The first main catalogue sale of the season has traditionally become the sole domain of Levis Art Auctions in Calgary, and this spring was no exception. The company held its mixed sale of Canadian and International works of art on April 9 to a good crowd with prices strong overall, and a buy-in rate of around 20%. Taking the honours for the top lot was Marc-Aurele de Foy Suzor-Cote's Femmes de Caughnawaga, a 16.5" x 22.5" x 12.5" bronze sculpture (illustrated right) fired at the Roman Bronze Works, New York. Estimated at $30/40,000 the piece fell just short of expectations with a bid of $27,600. Two other bronzes by Suzor-Cote also found buyers. Le vieux pionnier canadien from 1912 fetched $10,925 against a $12/15,000 estimate, the same price realized for La compagne de vieux pionnier from 1918.
Picking up a bid of $24,150 against an estimate of $18/24,000 was Nicholas de Grandmaison's portrait of Two Guns. The 25" x 20.5" pastel from 1927 was being sold to benefit The Herron Foundation. H.G. Glyde's Old Farm Buildings, North Saanich, a 16" x 20" oil on canvas with a $35/4500 estimate found a buyer at $6612.50, while the artist's Overlooking Gulf Islands, East Saanich Road, B.C., 15.75" x 20", fetched $6037.50.
An E.J. Hughes watercolour 19.5" x 23.5" with a view Looking North from a Patio, Shawnigan Lake, painted in 1994 sold just below estimate with a bid of $11,500, while William Hadd McElcheran's The Deal, a 29" x 10" bronze sculpture from 1996 crept into its estimate range with a bid of $12,650.
Other prices of note include a bid of $4887.50 for David Blackwood's colour etching of Aunt Gerti Hann Home in Wesleyville, $5980 for Allen Sapp's Tightening Drums for Sun Dance, 30" x 36", and $4600 for an 8" x 9" watercolour of an Old Stone House by W.J. Phillips.
Of note in a small session of international works was a bid of $5290 for Alfred Fontville de Breanski's Langdale Pikes, a 24" x 36" canvas estimated at $4/5000, and a bid of $4945 for a Carl Rungius etching entitled Alaska Wilderness estimated at $3/4000.