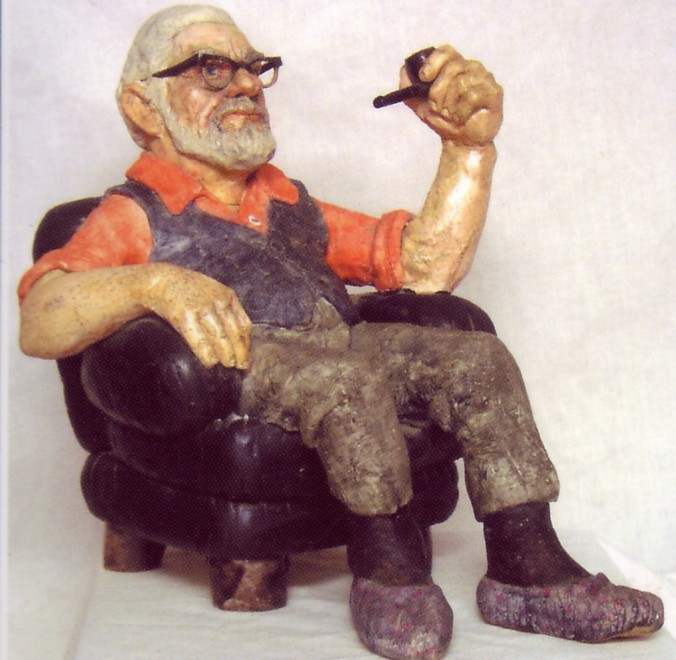 Calgary (15BP) – A two-session auction of Canadian and International paintings at Hodgins Art Auction, November 28 & 29 produced more of the same quality of prices and market interest that was seen a week early in this city at Levis Auctions. Taking the sale honours was Joe Fafard's painted ceramic sculpture of Ernest Lindner (illustrated right). The 12.75" x 12.5" x 15.75" work was estimated at $10/12,000 but found a buyer at a very healthy $34,500.
Illingworth Kerr's Elbow Falls, Night, a 36" x 48" canvas from 1987 fetched an above estimate $21,850, while A.Y. Jackson's Houses on a Northern Lake, a 10.5" x 13.5" oil on panel, c.1950, fetched an above estimate $20,700.
Frederick Verner's watercolour, 10.5" x 16.5" of Indians Canoeing from 1876 sold mid estimate for $10,925, and a colour woodcut of Sharp's Dock, Pender Harbour by W.J. Phillips did better than expected when it fetched $9775, well above its $5/7000 estimate.
Among other prices of note for Canadian paintings was a bid of $3910 for Allen Sapp's Children Having Fun, 16" x 20", and $4140 for the artist's Nice Day to Slide, 24" x 24". Claude Langevin's Coucher de Soleil, Charlevoix, 30" x 40" fetched an above estimate $5290, and Frederick Haines' three small 4.75" x 5.75" oils of Quebec landscapes did well at $4025. Rick Grandmaison's Calgary Winter, 18" x 22" sold over estimate for $3680, and Caroline Armington's Une Route a Honfleur (Normandy), an 8.5" x 10.5" oil on panel from 1922 found a buyer at a high estimate $3565.
A couple of prices of interest among a smattering of international works include a bid of $7475 for a pair of canvases 36" x 28" of Terriers Ratting by British artist Edward Armfield, and $4600 for Alfred Fontville de Breanski's 24" x 36" canvas of Highland Cattle at Sunrise.