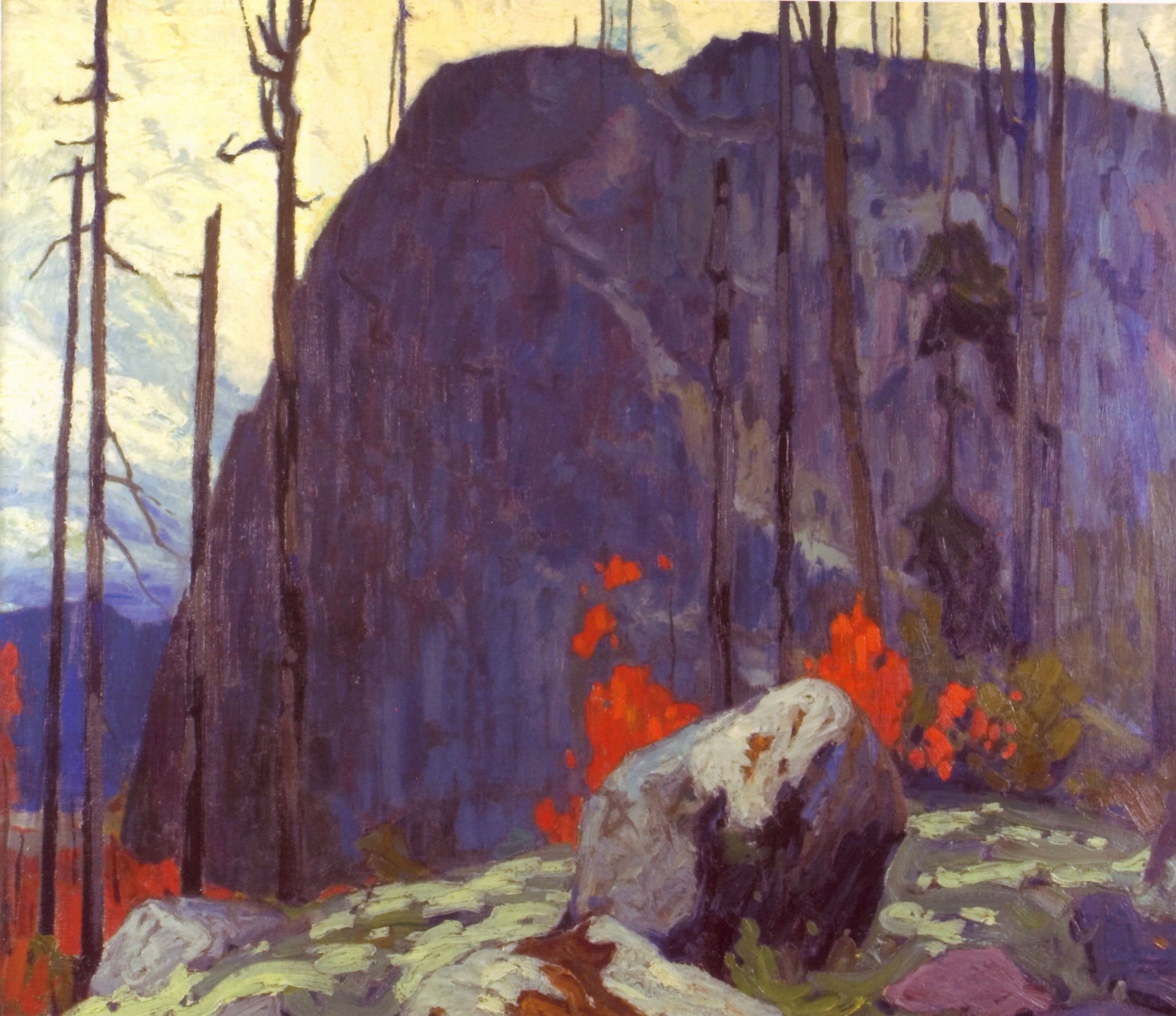 Toronto (15BP) – It was the largest Canadian art sale in the company's history, and it produced one of the top selling paintings of the fall series of sales, but incredibly it was not the strongest sale of the season. Sotheby's/Ritchie's sale of Canadian art November 21 produced an outstanding $8,372,250 in sales in a jam-packed auction room that saw 92% of the 221 lots on offer sold by value, and 86% by number.
C. Hugh Hildesley, Chairman of Sotheby's Canadian Advisory Board said "This is the finest and most balanced sale I have seen in a very long while."
"Going in we knew that this was potentially the largest sale value ever assembled during Sotheby's nearly forty years in Canada," said David Silcox, President of Sotheby's Canada. "The result shows confidence in the Canadian market and in the fact that works of high quality can find enthusiastic buyers."
Topping this amazing Monday morning session was Lawren Harris's Algoma Hill, a 46" x 54" canvas on board (illustrated top right) painted in 1920, the year the Group of Seven was formed by Harris in his Toronto home. Estimated at $800,000/1,200,000 it sold for an impressive $1,382,500. Another Harris also performed strongly. Row of Six Houses, Backview, City Painting III, a colourful 38.5" x 44.5" canvas painted circa 1924 found a buyer at $485,500 against a $400/600,000 estimate.
Two other paintings broke the $400,000 mark. One was Cornelius Krieghoff's Portrait of John Budden, a 23.5" x 30" canvas estimated at $200/300,000. It fetched $405,000. Budden was Krieghoff's friend and patron. He owned a Montreal auction house and was instrumental in establishing Krieghoff as the most widely collected artist of his time. Picking up a bid of $485,500 was Jean-Paul Riopelle's 32" x 39" Abstract Composition from 1954. This piece carried an estimate of $250/350,000.
In total there were 17 paintings that, with the buyer's premium, exceeded the $100,000 mark. Not surprisingly the average price per painting sold at this auction was an impressive $43,833.77. The sale got off to an exciting start with a record-setting David Milne watercolour Entrance to the Zoo picking up a bid of $117,500 against a $50/70,000 estimate. If this wasn't enough of a sign of things to come, just two lots later George Douglas Pepper's Fields and Farm, a 31" x 36" canvas estimated at $10/15,000 soared to a very solid $42,000. And so the morning went on, with estimates, for the most part being left well behind.
J.E.H. MacDonald's Spruce and Maple, Algoma, an 8.5" x 10.5" panel painted in 1919 did well with an above estimate bid of $163,500. The same price was realised for Krieghoff's The Royal Mail Crossing the St. Lawrence that was estimated at $50/70,000 and the artist's Race across the St. Lawrence found a buyer at $152,000 against a $100/125,000 estimate.
Marc-Aurele Fortin's March Snow, Quebec, a 38" x 48" oil on board sold for $232,500 well above its $150/200,000 estimate, and J.W. Morrice's Tanger, La Ville, 21" x 25.5" slipped into its estimate range with a bid of $186,500. Paul-Emile Borduas' Cascade Verticale, a 23.5" x 19.5" canvas from 1956 did well when it found a buyer at $129,000.
With too many high-ticket paintings to list here, let's look at some interesting prices at the lower end of the market. Prices such as the $22,800 paid for Randolph Hewton's Winter Scene with Horse and Sleigh estimated at $7/9000, and the $33,600 paid for Peter Clapham Sheppard's Cab Stand, Winter, a 20" x 24" canvas estimated at $12/15,000. A bid of $16,800 was taken for Joseph Hallam's In the Land of the Pitchblend, an 18" x 25" canvas with an estimate of $4/6000.
Two burnt wood wall sculptures by Armand Vaillancourt fetched $18,000 against a $5/7000 estimate, Jack Bush's Sharp Key, 66" x 41" from 1969 found a buyer at $54,000, and a Franz Johnston tempera from 1924 entitled Snowed In sold for a double estimate $71,500. Henri Masson's A Christmas Dance, 22" x 18", had lots of market appeal and duly obliged with a bid of $21,600 against expectations of just $4/6000.