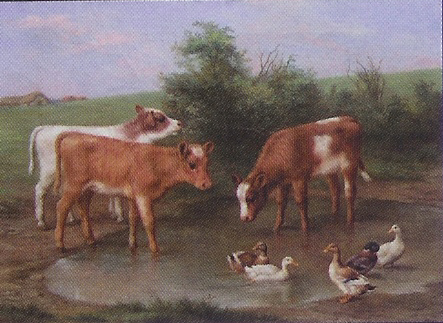 Calgary (15BP) – A strong session of Canadian and International works of art was offered at Hodgins Art Auctions May 30 & 31, with an international piece stealing the honours as the sale's top lot. Farmyard Friends (illustrated upper right), 12" x 16" by 20th century British artist Edgar Hunt took a bid of $19,550 against a $17,500/22,500 estimate. A couple of other European works also did well. Alfred Fontville de Breanski's Birches at Borrowdale, 20" x 30", found a buyer at $5290, comfortably above its $4/5000 estimate, while a painting of a Fisherman, 14" x 11" painted in 1915 by Jan Willem Sluiter surprised the saleroom when it sold for $4370 against an estimate of $700/1000.
The bulk of the sale was, however, devoted to Canadian art, with local favourites performing particularly well. Janet Mitchell's Winter Carnival a 31" x 47" oil on board from 1966 was the big winner with a bid of $10,925 against an $8/10,000 estimate. Allen Sapp's They've All Come to Visit, a 24" x 36" acrylic on canvas from 1986 did much better than expected, finding a buyer at $8050, double its $3/4000 estimate, while F.M. Bell-Smith's The Strand near Somerset House, a 10" x 7" watercolour from c.1905, fetched an impressive $7187.50, well above its $25/3500 estimate.
In the Doon Forest was the title of a typically dark 26" x 36" canvas from Homer Watson that nonetheless appealed to the market with a high estimate bid of $6612.50, while Illingworth Kerr's Ranch West of Millarville, 18" x 24", doubled its expectations with a bid of $5865.
The work of perennial favourite Georgia Jarvis did well on the day. A bid of $6325 was taken for Hitching Up, a 20" x 30" oil on board estimated at $35/4500, while Many Rides Remembered, 20" x 30", found a buyer at $4830, well over the $3/3500 estimate.
Other prices of note in this sale include a bid of $5750 for H.G. Glyde's Near Peyto Lake, Canadian Rockies, 16" x 20", and a similar price for Dorothy Knowles's Whirl Wind, a 46" x 48" canvas from 1981 estimated at $6/8000. A Horace Champagne pastel, 24" x 18" of The Artist's Favourite Port, Salvage, Newfoundland, fetched a high estimate $3680, while Joane Cardinal-Schubert's Moonlight Sonata, Nightwatch III, a mixed media on paper estimated at $35/4000 found a buyer at $4945.