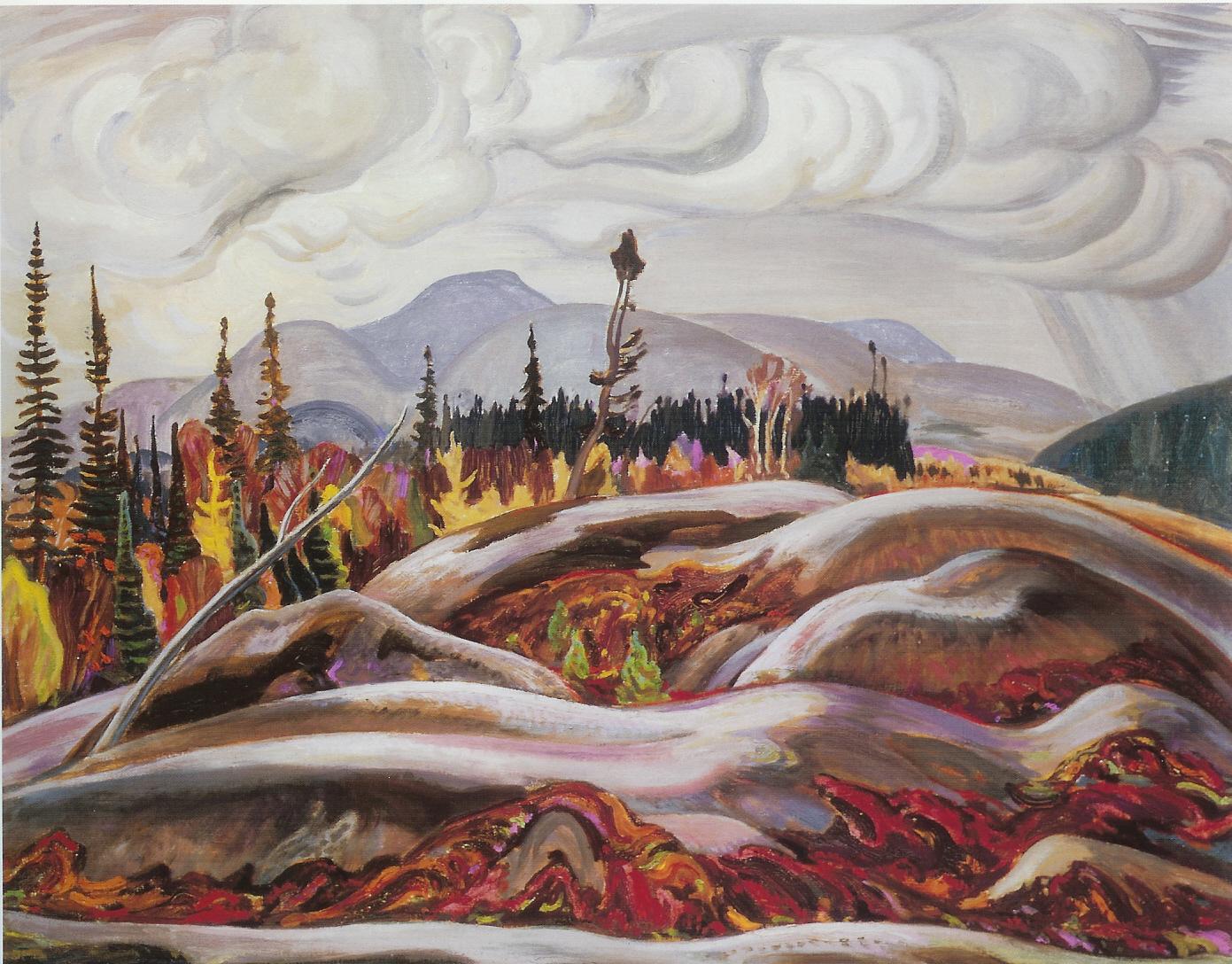 Well, with the catalogues now in, we finally know what awaits us at the three major Canadian art sales this month. Now the big question is who will be the premier saleroom when the final gavel falls at the end of the month? Heffel was the clear-cut winner last fall, but both Sotheby's and Joyner's will have something to say about that this spring. It looks like it will be a very tight race with the outcome almost certainly hinging on the performance of the handful of major works on offer, and, perhaps the odd undervalued surprise.
Heffel leads off on May 25 in Vancouver with a 230 lot sale that is estimated between $4/5 million. Sotheby's follow on May 30 with a 205 lot sale estimated at $4.3/6 million and Joyner Waddington's kick off a two session sale the following night, May 31, although for the purposes of this comparison, we will only deal with their high-end first night which features 259 lots and a $3.4/4.3 million estimate. From the overall estimates, therefore, it would seem that Sotheby's has a slight edge.
In total Sotheby's has nineteen works with an estimate that at the high-end falls within the $50/100,000 range. Another five pieces are in the $100/200,000 range, three more are valued between $200/300,000 and one is over $400,000. That leaves 177 pieces valued at less than $50,000.
Heffel, while having fewer in the $50/100,000 price range (16), has considerably more – 12 in total – in the $100/200,000 range, but no works in excess of $200,000. They have 202 works under $50,000. Joyner has twelve works in the $50/100,000 estimate range, a further six from $100/200,000 and one between $200/300,000. And there are 240 pieces under $50,000.
The average price per lot based on mid pre-sale estimate at Sotheby's is $25,121.95. At Heffel it is $19,565.22 and at Joyner it is $14,864.86.
The undisputed highlight of the season, at least on paper, is Sotheby's Lawren Harris canvas Eight Red Houses, 40" x 48" estimated at $400/600,000. Tom Thomson's Autumn, Algonquin Park, 8.75" x 10.75" is another senior piece in the same sale at $200/300,000, as is A.Y. Jackson's In Jasper Park, a 25" x 32" canvas estimated at $200/250,000. Also of note is Marc-Aurele de Foy Suzor-Cote's The Settler's Daughter, 29" x 24" at $125/175,000, Jean-Paul Riopelle's Ressacs, 32" x 39" at $200/300,000, Marc-Aurele Fortin's Near St. Simeon, Quebec, 38" x 48" valued at $140/160,000 and a Jack Bush canvas, Red on White Circle, 70" x 80" at $40/60,000.
At the other end of the pay-scale, a few pieces to watch, I think, are J.W. Beatty's House at Dusk, 10.5" x 14" ($4/6000), Gertrude des Clayes Babes in the Woods ($4/6000), Robert Pilot's Piedmont, P.Q., Sleighs ($6/8000), Emily Carr's Thames River, London ($5/7000) Frederick Banting's A French Canadian Village ($3/4000), Thomas Beament's Sleigh Ride in the Laurentians ($3/4000), Franz Johnston's Bejewelled ($4/6000) and J. W. Morrice's Regatta, Early Evening ($15/25,000).
Heffel's sale is strong in the $100/200,000 range lead by works from Emily Carr, E.J. Hughes and Lawren Harris. Low Tide, Qualicum is a 20" x 26" Hughes estimated at $125/175,000, while Departure Bay, 32" x 40" is expected to fetched between $100/150,000. Emily Carr's Summer, Mount Douglas (No. 13), a 36" x 24" oil on paper carries a $125/175,000 estimate, and Lawren Harris has two works at $100/150,000: Mountain Sketch, Van Horne Range, 12" x 15", and Wenchemna Lake, Rocky Mountains, 12" x 15".
Other pieces of note include Cornelius Krieghoff's An Incident in a Winter Blizzard at $100/150,000, Helen McNicoll's By the Lake a 20" x 24" canvas at $50/60,000, Albert Robinson's fine St. Tite des Caps, 22" x 26" valued at $100/150,000, Alex Colville's Woman with Skiff, 17" x 38" at $125/175,000, and Maurice Cullen's impressive Cape Diamond, Quebec, an 18" x 29" canvas estimated at $100/150,000.
At the "affordable" end of the market, I like Bess Harris' Old Mine Shaft, Cobalt ($4/6000), J.E.H. MacDonald's High Park and Shack in Winter ($6/8000), L.A.C. Panton's Sentinels in the Spring in the North Country ($15/2000), W.P. Weston's Fraser Canyon ($3/4000), and Takao Tanabe's Bow River ($25/3500).
Joyner's star attraction is A.Y. Jackson's Northern Landscape, Lake Superior, a 32" x 40" canvas estimated at $250/300,000 and possibly on track to set a new artist's record (illustrated above right). Also of importance is A.J. Casson's October Morning, 30" x 36", estimated at $125/150,000, and Lawren Harris' Mount Robson from the North East, a 12" x 15" oil on board estimated at $175/200,000. The same estimate has been given another Harris sketch, this time Clyde Inlet, Baffin Island. The sale boasts several fine Fortins including The Old Mill, 22" x 33" valued at $100/125,000, and Laurentides Etude, 18" x 22.5" estimated at $100/125,000. Also of note is Jean-Paul Lemieux' Reverberes, 18" x 26" estimated at $100/125,000, Jean McEwen's En Remontant les Jaunes, 60" x 72" at $60/80,000 (and possibly a new artist record), and Paul-Emile Borduas' No. 10 Ou Figure Athenienne, an 18" x 24" gouache valued at $60/80,000.
For the empty pocket collectors I like Frederick Verner's Ojibway Family Gathering, a 10" x 14" watercolour at $18/2200, Frank Hennessey's Winter in the Laurentians ($3/4000), Frank Brooks' Quebec Market ($12/1500), Randolph Hewton's Quebec Village in Winter ($18/2000), L.A.C. Panton's Trees by the Lake ($3/5000), Joseph Browne's Autumn Day ($2/2500), and John Young Johnstone's Summer Harbour Scene ($2/3000).
Remember, if these sales – and, of course the rest across the country – live up to expectations then the Canadian art market will almost certainly post its ninth consecutive overall annual gain, that's fifty percent longer than any previous market gain on record. Quite impressive, you have to agree. So, there's a lot riding on this spring season, not just bragging rights among the top three.