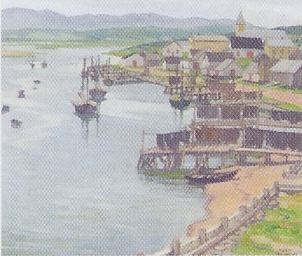 Toronto (15BP) – Ritchie's mixed sale of antiques and art in early March included a session of Canadian and Inuit art March 3. Top lot of the session was reserved for a Lakeview watercolour, 10" x 9", by W.J. Phillips. Estimated at $3/4000 it sold for $9200.
Picking up a bid of $7475 was Sir Frederick Grant Banting's Autumn Landscape, an 8.25" x 10.5" panel estimated at $3/4000.Doris McCarthy's Port au Persil, PQ, an 11.5" x 13.5" panel (illustrated upper right) estimated at $25/3500 fetched a solid $6325, slightly better than the artist's Harbour at Barachois, 11.25" x 13.5" that sold for $6038. Stanley Cosgrove's Early Snow in the Latuque, 25" x 32" fetched a healthy $6325 against a $35/4500 estimate, and a Charles Fraser Comfort panel, 12" x 16" of Mount McArthur, Canadian Rockies, found a buyer at $4888, well above its $2/3000 estimate.
Hilton Hassell's October Woods, Madawaska, a 26" x 36" oil on masonite comfortably topped its mark with a bid of $4313, and Harold Town's Toy Horse 37, an oil and pastel on board from 1977 fetched a high estimate $4025.
George Agnew Reid's Cows Watering, a large 40" x 59.5" canvas sold close to its high estimate with a bid of $5750, while Frederick Challener's …Old Mansion, an 18" x 13" canvas from 1890 fetched an above estimate $3220. A Suzor-Cote pastel Landscape, 14.5" x 10" fetched $3450, and Berthe des Clayes' Autumn Ploughing, another pastel this time 15.5" x 14", picked up a bid of $2990.
Other prices of note include a bid of $3450 for Banting's Spanish Sun, 13" x 17", $3220 for Dorothy Knowles' The Edge of the Farm, 16" x 20", $5175 for Albert Franck's Back of McMurrich Street, a 12" x 10" oil on masonite estimated at $4/6000 and $3738 for William Winter's Cherry Beach, a 20" x 16" oil on board estimated at $15/2000.