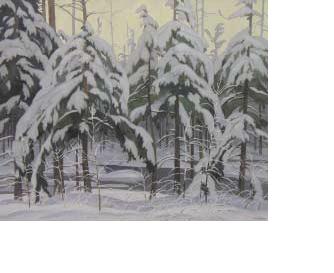 Calgary (10BP) – The job of de-accessioning works from the collections of Fortis Alberta and Dow Chemical fell to Hodgins Art Auctions January 30, 2005, and was successfully accomplished with almost 86% of the 124 lots finding buyers. As one might expect from corporate collections, the works were predominantly contemporary and predominantly large, with a smattering of the old guard included for flavour. Among this smattering was a magnificent canvas, 30" x 36", by A.J. Casson (illustrated right). Although not Group period by a long way – it was painted in 1964 – it was nonetheless a wonderful image of Snow Laden Spruce and deservedly carried a presale estimate of $50/70,000. The market liked it more than that, however, pushing it to a very solid $121,000.
Alan Collier's large 36" x 72" canvas of Primordial Land, South Shore of Devon Island, N.W.T. carried at $7/10,000 but, again, the market thought more of it, taking it to an impressive $19,800. Two lots each picked up bids of $8800. Henry Glyde's Bow Valley, a 16" x 20" canvas from 1981 was estimated at $3/5000 while Ted Godwin's Northern Fall, a 64" x 80" canvas carried expectations of $8/10,000.
On Opabin Plateau, Yoho National Park was the subject of Horace Champagne's 22" x 29" pastel which found a buyer at $6875, comfortably above its $4/5000 estimate. The same price was realised Wilf Perreault's Be Mine, a 72.25" x 24" acrylic on canvas from 2001 that was estimated at $3/4000.
In contrast to the predominance of contemporary works was George Horne Russell's The Rockies from Maligne Lake. Painted circa 1905, the 33.5" x 42.25" canvas fetched a mid estimate $7150. Doing considerably better than estimate was Janet Mitchell's watercolour of Cochrane painted in 1942. The 13" x 16" image found a buyer at $4180 against expectations of $15/2000.
The whole tone of the sale was quickly set with lot one, William Duma's Longview Below, a 12" x 16" oil on board that fetched a three-times-estimate bid of $1650. Alan Collier's Skeena River below Cedarvale, a 12" x 16" oil on board fetched a more than double estimate $3520, and David Pugh's Grey Sky, a 36" x 40" canvas from 1989 doubled its low estimate with a bid of $4400.
Henry Glyde's Mountain Landscape watercolour, circa 1942, fetched $3850 against a $15/2000 estimate, while Gilbert Flodberg's Prairies Edge, a 40" x 72" acrylic on canvas sold for $5775 against an estimate of $4/5000. Alex Janvier's Na Bol Yen, a 48" x 36" canvas from 1993 sold over the high estimate at $5610, and Brent Laycock's Wooded Creek, a 48" x 72" acrylic sold over the low estimate at $5500.
Also of note is William John Houston Laing's Vein #16, a 24" x 59" oil on board from 2000 that sold for a high estimate $5225.