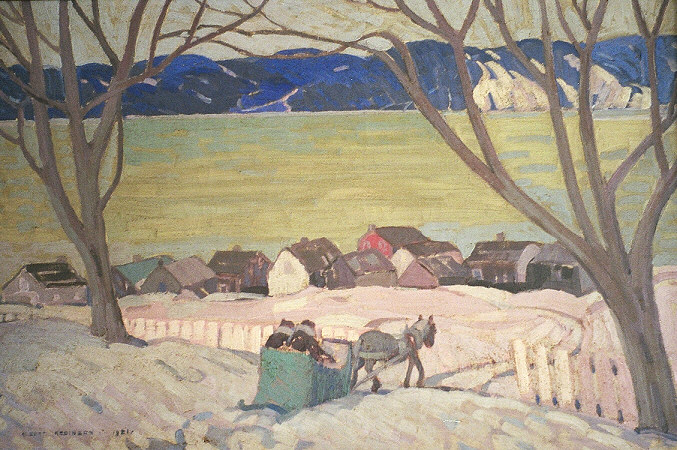 It looks like another blockbuster spring season for Canadian art as salerooms close off their catalogues in preparation for the mostly May and June sales. A quick survey across the country has shown no shortage of great, fresh to the market works, and, with the economy still bopping along, it seems certain that the Canadian art market will post its ninth consecutive annual gain!
We hope to have a more detailed report next issue, especially as many rooms are still taking in consignments, but as it sits right now the projected figure for this spring is around $15/16 million which, when added to the record fall season, should be enough to eclipse the $34 million total of last year.
Sotheby's/Ritchie's once again currently have the top estimated painting for the season, a late 1920s Lawren Harris canvas, 40" x 48", of houses estimated at $400/600,000. A $200/300,000 Tom Thomson of trees, and a magnificent Suzor-Cote portrait at $125/175,000 are among the other star lots in a $4.3/6 million sale set for May 30 in Toronto.
Across town Joyner Waddington's are looking to improve on their $3.5 million showing last fall, and all the indications point to their doing just that. With works still being accepted for their May 31/June 1 sale, several headline pieces are already in the book including a great Mount Robson sketch by Lawren Harris estimated at $175/200,000, and an A.J. Casson Northern Ontario landscape at $125/150,00. Expect bigger headlines, however, by the time the catalogue is published.
The runaway winners of last season's race to the top among the big three auction houses was Heffel with its $8.4 million sale. This spring their May 25 sale has no mega-priced paintings, but a whole bunch of pieces in the $100/200,000 range, enough to give them a pre-sale estimate of $4/5 million. Among the jewels in the crown are a large E.J. Hughes canvas at $125/175,000, a great Albert Robinson winter landscape estimated at $100/150,000, the same price given to a superb Cape Diamond, Quebec canvas from Maurice Cullen. Before you assume that this sale will not match the heights achieved last fall don't overlook the fact that the saleroom was expecting $4/5 million then also!
Getting the season underway with its April 17 auction is Levis Art Auctions in Calgary, where a large Franz Johnston canvas carries a $100/125,000 estimate, and a great Maxwell Bates interior looks set to break all previous records for this artist with a $40/50,000 estimate. Other notable works include a B.C. forest scene from Arthur Lismer at $12/15,000.
In Ottawa, Walker's auction on June 3 will be highlighted with a fabulous St. Lawrence landscape (illustrated top right) painted in 1921 by Albert Robinson and estimated at $250/350,000.
So far this year we have already seen a couple of smaller sales in Alberta and Saint John do extremely well and, with the quality and selection that is clearly available right across the country we can expect this strong trend to continue. So get set for another bumper season ahead!