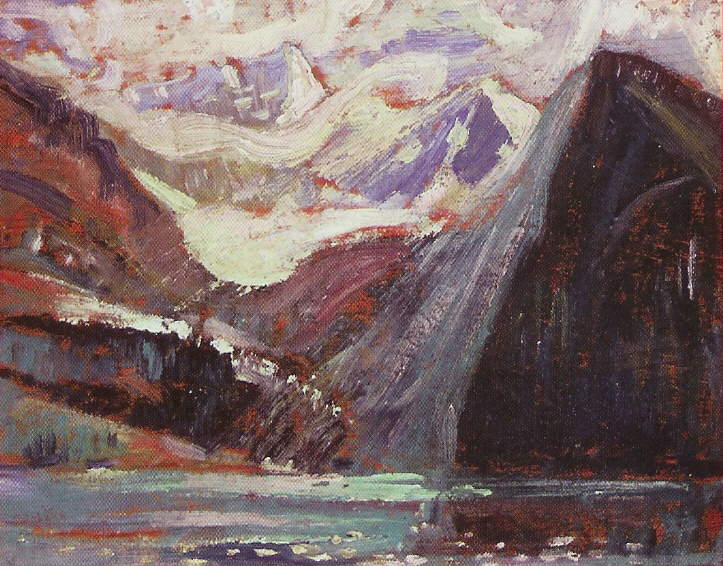 Ottawa (15BP) - There were several strong prices recorded at Walker's December 1st, 2004, fine art auction, with the best among them being the $48,875 paid for Arthur Lismer's Glacier Above Moraine Lake, (illustrated right) an unsigned panel, 9" x 12", painted in 1928. It was estimated somewhat conservatively at $25/30,000 probably due to the lack of signature. Another Lismer, this time Stony Shore, High Tide, Cape Breton Island, 12" x 16", painted in 1946, also improved on its estimate with a bid of $13,800.
The Canadian session of the sale got off to an excellent start with Berthe des Clayes' Spring Thaw, a 12" x 16" oil on panel estimated at $25/3500 finding a buyer at a very healthy $10,350. Her sister Alice des Clayes also caught the market's eye with Horses Feeding, Early Spring, a 17" x 23" canvas fetching a low estimate $8050. An A.Y. Jackson panel, 8.25" x 10.5" of a Sawmill in winter, estimated at $15/18,000 picked up a bid of $17,250, while a Thomas Hilton Garside pastel, Christmas Eve in the Laurentians, 15.5" x 19.5", fetched an above estimate $3450.
Woodland near Lake Baptiste, a 9.25" x 11.25" oil on board from A.J. Casson sold on its high estimate at $16,100, and Henri Masson's Checker Players, an 18" x 22" canvas c.1945, found a buyer at $9775, well above its $4/6000 estimate.
In a small session of international paintings, Bernard Pothast's Amusing the Baby, a 20" x 24" canvas estimated at $18/24,000 sold for $20,700, and a pair of oils on panel of Dutch Town Lanes with Figures by Adrianus Eversen (1818-1897) fetched $11,500 against expectations of $6/9000.