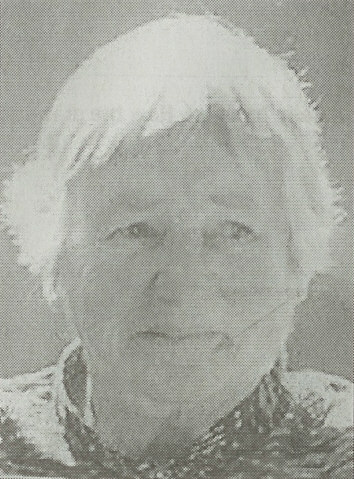 Agnes Bernice Martin: 1912-2004
George Edmund Alleyn: 1931-2004
Peter Noel Lawson Aspell: 1918-2004
December 2004 was not a good month for Canada's artistic elder statemen. No less than three prominent Canadian painters passed away during the month - while three more passed away earlier in the year. Agnes Martin (photo right courtesy of Associated Press) is perhaps the least known of the four, yet definitely the most acclaimed. She is recognised - mostly outside of Canada - as one of the world's foremost contemporary artists. As a testament to this fact her work can be found in the Guggenheim Museum and the Tate Gallery, London. She was named one of the 10 best living artists by ARTnews Magazine in 1999, at which time she was living in Taos, New Mexico in relative obscurity - a state she apparently guarded vehemently, and succeeded in protecting - and had long been accepted as being an American, rather than Canadian artist. In a profile on Martin in Saturday Night magazine published in December 1997 she was referred to as "Canada's most accomplished unknown painter."
Indeed Martin was so "unknown" that embarrassingly, we at Westbridge Publications paid little to no attention to her market activity - a market that saw one of her works sell at auction in New York last November for $2.6millionUS. That makes her the second most expensive Canadian painter ever sold at auction and, at the time of the sale, the most expensive living artist ever sold at auction. In the fall of 1998 Martin received the NEA National Medal of Arts as one of the U.S.'s "foremost abstract artists."
The following is her entry in The Collector's Dictionary of Canadian Artists at Auction. Volume III: M-R.
MARTIN, Agnes Bernice (née Fenwick) CPE (1912-active 2004). Born in Macklin, Saskatchewan, Martin studied at Western Washington State College, Bellingham (1935-1938); Columbia University, New York City (1942); University of New Mexico, Albuquerque, (1946-1947); and Columbia University, New York City (M.A. 1952). Working in oil, acrylic, watercolour, graphite, silkscreen and colour linocuts, her early subjects include floral still life, rural buildings, the Ontario farm landscape especially near Muskoka, and working ships such as freighters, steamers and tugs. Her later styles are Abstract Expressionist and Minimalist. Working in cool greys, her work is serene, spiritual and tranquil. She lived in Vancouver, British Columbia (1919-1931), taught public school in Washington State and Delaware (1937-1946), and lived in New Mexico since 1967. She stopped painting (1967-1974). Martin received an honorary doctorate from the New Mexico State University in 1966. She exhibited with the RCA in 1945 and 1947, and has held solo exhibitions at the MOMA in 1974, MAG in 1981 and 1995, the Whitney Museum of American Art in 1992, and Venice Biennale in 1997. Her work is in the collections of the AIC, AGO, Guggenheim Museum, MOMA, NGC, and Tate Gallery
Edmund Alleyn was an innovative artist who, much like his contemporary Marcel Barbeau, was a consumate artist who could not rest on one style or medium, but strove to explore and dispense with so many different facets of his craft. Writing the artist's obituary in the Globe & Mail, February 16, 2005, M.J. Stone wrote: "Remarkably versatile, Mr. Alleyn was an innovator whose stylistically diverse paintings, drawings and multimedia installations are all critically regarded as superb examples of their genre. An intellectual painter, his oeuvre resonates with the tensions that exist between the figurative and non-figurative, sometimes playfully marrying Pop and Formalist art together. In his later work, he invoked an elegiac, cinematic quality, inviting viewers to locate their place within his work."
Allen's market value, despite his critical and academic acclaim, never amounted to much, partly, it is felt, because he chose to explore so many different avenues of style, subject and medium. Collectors were confused by this variety and could not label the artist clearly. This lead to discomfort and uncertainty, and eventually disinterest.
The following is his entry in The Collector's Dictionary of Canadian Artists at Auction. Volume I: A-F.
ALLEYN, George Edmund (1931- ). Born in Quebec City, Quebec, Alleyn studied under Jean-Paul Lemieux and others at l'École des Beaux-Arts, Quebec City (1951-55). His early work was influenced by Goodridge Roberts and Alfred Pellan, and later by the Franco-Russian painter, Nicholas de Stael. Alleyn lived in Paris between 1955-71, after winning scholarships from the Quebec and Canadian governments. His paintings, sculptures, prints and installations include figurative, abstract and cybernetic-related forms. He returned to Canada in 1971 and since 1972 has taught at the University of Ottawa. He is represented in the VAG, MQ, MMFA, and NGC. He exhibited at the RCA in 1964 and the MMFA between 1954-62.
A tribute to Peter Aspell, John Snow (1911-2004), Harry Heine (1928-2004), and Louis Perron (1919-2004), four other prominent Canadian artists who passed away in 2004, will appear in our next issue.