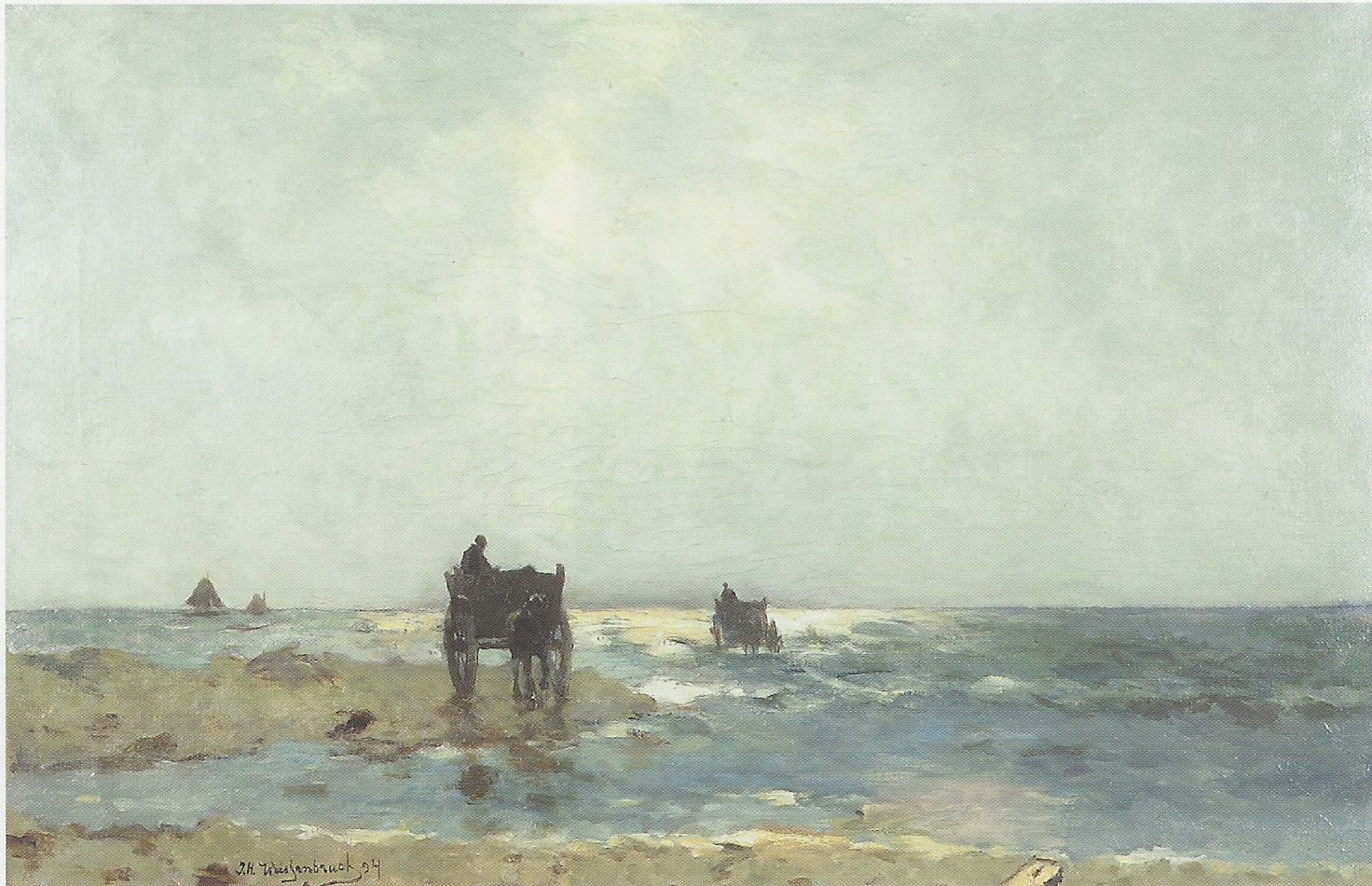 Toronto (15BP) - The works of Dutch artist Jan Hendrik Weissenbruch (1824-1903) can often be quite sparse and plain in their treatment, but it is clearly something the market embraces. Ritchies' sale of European and American art, December 2, featured just such a work. The artist's Beach at Scheveningue (sic), a 24" x 36" canvas (illustrated right) painted in 1894 was anything but busy and illuminating, but it was just what the market wanted, and they paid for it to the tune of $92,000 against an estimate of $80/100,000.
The paintings of British 20th century artist Edward Seago, which came into prominence in the 1980s & 90s, continue to have considerable market appeal. Beach at Kessingland, Suffolk, a 26" x 36" canvas, estimated at $40/60,000 found a buyer at $66,125, while Blythburgh, Suffolk, 18" x 24", fetched $63,250 against a $50/70,000 estimate. A smaller work, 11" x 16", entitled On the Thurne picked up a bid of $29,900, well over its $15/20,000 estimate, and Low Water, Honfleur, an 11" x 15.5" watercolour also did well finding a buyer at $11,500 against expectations of $5/7000.
A Morocco Watchman was the title of a 27" x 23" canvas by Dutch painter Marius Bauer (1867-1932) an image of which graced the cover of the sale catalogue. Expectations were strong for this piece and it did not disappoint. Estimated at $20/30,000 it sold at the high end for $29,900. Still with the Dutch school, Johan Scherrewitz's Hitching Up the Team, a 22" x 39.5" canvas fetched a mid estimate $9430, as did Marc Gorter's Autumn Sunshine, 15" x 20", at $4600.
British artist James Paterson's charming Quiet Moment in the Shade, a 21" x 14" watercolour dated 'Richmond 1884' and showing a young woman reading in the shade of a tree, really took the saleroom by surprise. Estimated at $2500/4000 the quality and subject of this piece had 'buy me' written all over it. But few would have guessed that it would have soared to a very impressive $21,850.
A solid mid estimate price of $9200 was achieved for Robert Herdman's The Cradle, South Italy, 18" x 14", and John McGhie's On the Beach, 14" x 18", also went mid-estimate with a bid of $8050. Theodore Ralli's La Mademoiselle, an 11" x 7.5" canvas from 1887 sold just above low estimate with a bid of $11,500, while Guiseppe Cosenza's The Young Lovers, 15" x 31", was another work to leave its estimate way behind, selling for $23,000 against a $5/7000 estimate.
Other prices of note include a below estimate bid of $13,800 for Giorgio Lucchesi's Grappoli d'Uva Contro La Patete, a 26.5" x 34" canvas with expectations of $15/20,000, and $14,950 for Marc Chagall's colour lithograph Sunset from Nice and the Cote d'Azure suite. This piece was estimated at $5/7000.