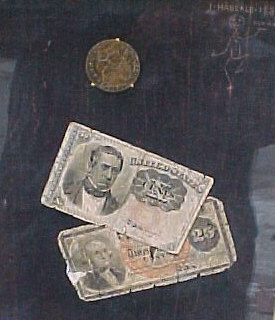 Saint John, NB - The year got off to an exceptional start for Tim Isaac Auctions January 2, with the sale of American artist John Haberle's(1858-1933) U.S. Currency, an 8.5" x 10" oil on canvas (illustrated) from the estate of Margot Mais, granddaughter of Lord Shaughnessy. It sold for a very healthy $51,000.
The rest of the sale's highlights were pretty much reserved for the work of leading Martime artists such as Miller Gore Brittain, F. C. Miles, Jack Humphrey, George Horne Russell and Joseph Purcell. Miller Gore Brittain's mixed media of Head and Body 9" x 17", from 1962 fetched $6000, while F.C. Miles' Saint John Harbour at Night, a 21.5" x 31.5" canvas from 1909, realised $4600.
Harry Britton's Morning Mist Parrsboro, Nova Scotia, 1933, an 18" x 22" canvas fetched $4000, the same price realised for George Horne Russell's Boy Clam Digger, a 7.75" x 9.5" oil on board that also came from the Mais estate.
Kathleen Daly's Perce Fishing Boats, a 14" x 18" oil on board, sold for $2100 as did a study drawing, 14" x 19", by Jack Humphrey. A Barnyard Scene by Henrietta Britton, 22" x 29.5", fetched a solid $2000, while Joseph Purcell's Nova Scotia Winter Scene, an 8" x 10" oil on board fetched $1500. A similar scene by the same artist realised $1350.
Other prices of note include a bid of $1500 for an oil on board, 20" x 24", of Fundy Fishermen by Lucy Jarvis, $1650 for Jack Humphrey's New Brunswick Autumn Farm Scene, 14" x 20", $1300 for William de Garthe's Seagulls, 7" x 9", and $1500 for Bill Martel's ink and crayon Portrait of Ann, 16" x 20".
Also of note was Rene Richard's Baie Ste. Paul, PQ, a 10" x 12" oil on board that sold for $1800, and another of the same subject, 13" x 14.5", that took a bid of $1450. Two watercolours of Lobster Fishing in the Bay of Fundy by Rev. R.H. Nicholson each sold for $1000.