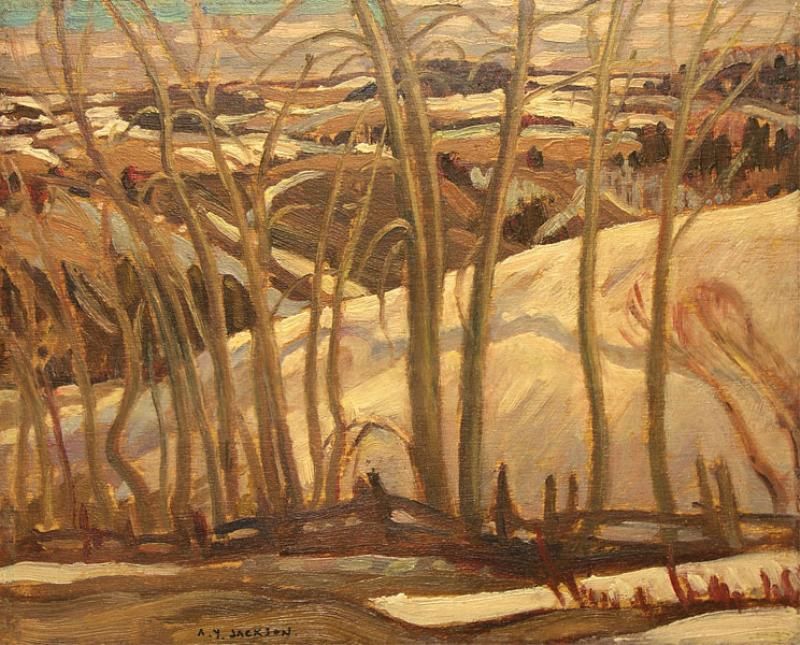 Calgary (15BP) – A strong $500,000 plus sale at Hodgins Art Auction November 24th & 25th following on the heels of Levis Auction's just under $500,000 total showed that there is still plenty of market interest in Alberta despite the economic downturn. Although more works than usual failed to find buyers the sell rate was still pretty strong with many pieces doing extremely well. Top price in the sale was $29,900 achieved by two separate works. The first was A.Y. Jackson's St. Tite des Caps, an 8.5" x 10.5" panel, c.1932 that carried a $25/35,000 estimate (illustrated right). Achieving the same price but doing much better than estimate was W.J. Phillips's Autumn Gold on Pine Creek near Midnapore. Painted in 1958 the 15" x 19" watercolour was estimated at $12/16,000. Another Phillips watercolour also did well although it didn't quite reach its pre-sale expectations. Prairie Creek, near Rocky Mountain House, painted in 1944, found a buyer at $11,500 against a $14/18,000 estimate.
A pastel on paper of Chief Bodie by Nicholas de Grandmaison sold just under estimate with a bid of $17,250, while William McElcheran's Checking the Time, a 25.5" bronze from 1973 sold near the top of its estimate with a bid of $14,950. Also doing well was McElcheran's The Pursuer, a 14" bronze sculpture from 1988. Estimated at $6/8000, it sold for $9200.
Illingworth Kerr's Evening Light, Spring, Tenth Street Bridge, a 22" x 28" canvas from 1985 that was illustrated on the cover of the catalogue, did much better than expected taking a bid of $10,465 against a $5/6000 estimate. Falling a little short of its $8/10,000 mark was Norval Morrisseau's Shaman Figures and Animal Spirits, a 28" x 90" canvas from 1973. It sold for $6900. Also off the pace but still finding a buyer was William Kurelek's Abandoned Goulettes, a 20" x 28" mixed media from 1976. Estimated at $15/20,000 it sold for $11,500.
A Maud Lewis mixed media, 12" x 14" of Skiers, Sandy Cove did well with a bid of $8625 against a $5/7000 estimate. Richard Freeman's Movin' On, a 24" x 36" canvas from 1990 sold within estimate for $4312 as did two works from the brush of Duncan Crockford. Old Time Harvest, Hussar, Alberta, 24" x 30" and painted in 1976 fetched a mid-estimate $3450, the same price realised for the artist's Gleam of Sunlight near Black Diamond, Alberta painted in 1982.
Also doing well was Ernest Lindner's Winter Scene with Horse-Drawn Milk Cart, a 10.5" x 14.5" watercolour from 1941. Estimated at $25/3500 it sold for $3220. Achieving a similar price was Dorothy Knowles's Going Further, a 26" x 24" canvas from 1982 estimated at $3/4000. Alan Collier's 16" x 20" oil on board of Quiet Buttle Lake fetched a high estimate $3105, and Allen Sapp's Hauling a Load of Wood Home for Winter, 24" x 36" fetched $4600. Alex Janvier's The American Capitol, 24" x 28" sold on the high estimate with a bid of $3450, while Illilngworth Kerr's Waterfall a 12" x 16" oil on board did better than expected with a bid of $3680.
A bid of $4600 was taken for Dorothy Knowles's The Sun on the Trees, a 36" x 39" canvas from 1964, and $4312 secured Leo Mol's Michelle, a 20" bronze sculpture from 1991 estimated at $3/3500. An interesting lot was two early Canadian hand-carved oak angels holding scrolls, from c.1866. Estimated at $7/10,000 the pair sold for $6900.