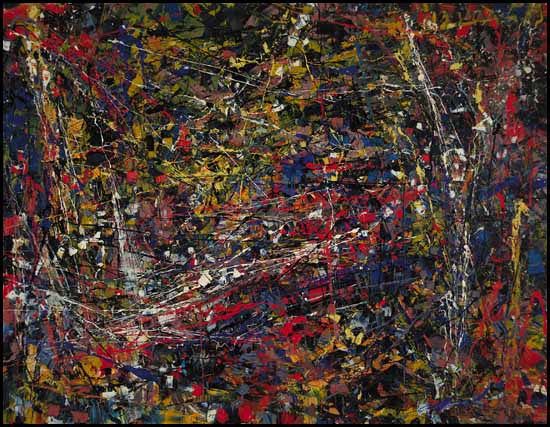 Toronto (17BP) – Launching a new sale devoted to contemporary and post-war Canadian art in the middle of a global economic crisis was perhaps not the best timing for Heffel Fine Art especially when, historically we have seen the contemporary markets suffer first and deepest in times of economic uncertainty. However, in the best of theatrical traditions, it was a case of the show must go on. And on it went – with great success. The sale took place at on the afternoon of November 19th, three hours before the company's regular fall session. The works in the contemporary session would ordinarily have been included in their main sale but, in light of the growing popularity of this particular segment of the market, warranted, the saleroom felt, a session all to itself. They were right as the inaugural event generated over $5 million in sales against a $4/6 million estimate, with over 80% of the works finding buyers.
Highlight of the 89 lot session was Jean-Paul Riopelle's Sans Titre (Composition #2), a 50" x 61" canvas from 1951 (illustrated right). Aggressively estimated at $1/1.5million it proved its worth by selling for a very impressive $1.638million. A second Riopelle entitled Self 51" x 38" from 1959 fetched a mid-estimate $468,000.
The tone of this session was set with the very first lot when B.C. Binning's Tall Ships, 48" x 20" from 1950 went on the block with a $60/80,000 estimate. It quickly sold for $111,150 and immediately everyone in the room must have been asking themselves "What recession?" Eighty nine lots later, with the majority of lots selling, nine for more than $100,000, they were still asking the same question.
E.J. Hughes's Early May at Qualicum Beach, a 24" x 36" canvas from 1966 fetched a mid-estimate $304,200, Jack Bush's Twirl, 80" x 65.5" from 1971 sold for $140,400 double its low estimate, and Paul-Emile Borduas' Mazurka, 42" x 32" from 1955 sold mid estimate for $327,600.
A price that definitely set the room murmuring was the $163,800 paid for Painters Eleven member William Ronald's Drumbeat, a 47" x 50" canvas from 1956. Estimated at $60/80,000 it set a new record for the artist. Also setting a new record for the artist was William Paterson Ewen's Full Circle Flag Effect, a 96" x 132" acrylic on plywood painted in 1974. Estimated at $400/600,000 it sold for $468,000.
Also of interest in this session was the high estimate bid of $93,600 paid for Jean Albert McEwen's Le drapeau inconnu, a 52" x 46" canvas from 1964, the $29,250 paid for Ulysse Comtois' Ydra, 18" x 20" from 1961 estimated at $3/4000, and the $35,100 paid for Samuel Borenstein's Lac Paquin, PQ, a 16" x 20" oil on board that was estimated at $10/15,000.