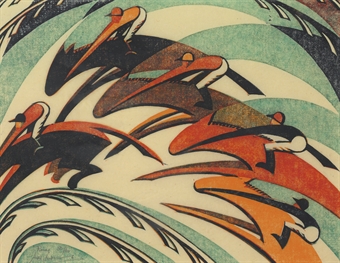 Is Canadian art a good investment?
According to one prominent collector it most certainly is. The collector, who we'll call John, was telling me recently about a little competition he and his wife had around the time their first child was born ten years ago. John's wife suggested that the couple prepare for the child's future by putting money into an investment account. A figure of $5000 each was agreed upon, only John opted to put his $5000 into a piece of art while his wife went into the stock market.
Today, the value of the wife's investment is around $3800. John, on the other hand, took his $5000 and purchased a copy of Sybil Andrews's linocut Racing (illustrated right). The most recent auction price for this image was $48,000, and even adjusted for today's current economic turmoil, it has to be worth at least ten times the value of his wife's investment. Indeed, Bonhams Canada are hoping the image is worth considerably more, as they have a copy of the print in their December auction in Toronto valued at $50/70,000.
For all of us who believe that the right art is a good investment let's be thankful that John knew what he was doing, and didn't invest in one of Vladimir Vladimich's white on white with black spot suprematist interpretations currently available at Joe's Art Mart & Auto Parts Emporium. The outcome might not have been so rewarding.