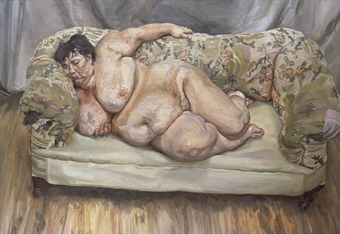 London - One of Britain's leading contemporary artists, Damien Hirst, renowned for his formaldehyde sculptures, is setting a new market trend with the recent announcement that he has aligned himself with Sotheby's for a fall auction of approximately 40 of his works all created in the past two years. Beautiful Inside My Head Forever is the title of the sale to be held September 15th and 16th in London, and will feature a variety of mediums including his trademark sculptures, paintings, cabinets and drawings. The centerpiece of the auction is The Golden Calf, a monumental new sculpture that shows a bull in formaldehyde with his head crowned by a solid gold disc and whose hooves and horns are cast in 18-carat solid gold. Encased in a gold-plated stainless steel and glass box the sculpture is expected to fetch 8/12 million pds. stlg.
Said Hirst about the unprecedented move away from his usual gallery showings: "After the success of the Pharmacy auction (held in 2004 which raised 11 million pds. stlg.), I always felt I would like to do another auction. It's a very democratic way to sell art. Although there is a risk involved, I embrace the challenge of selling my work in this way. I never want to stop working with my galleries. This is different. The world's changing ultimately I need to see where this road leads."
Freud's nude supervisor now the most expensive work by living artist
New York – A new world auction record for a living artist was set this past May at Christie's, New York, when the saleroom sold Lucien Freud's Benefits Supervisor Sleeping (illustrated upper right), a life-size portrait depicting an obese nude woman sleeping on an old sofa. Painted in 1995 the work sold for an exceptional $33, 641,000 U.S. Freud, 85, is the grandson of renowned psychoanalyst Sigmund Freud. The previous record for a living artist was $23.6 million for Jeff Koons's Hanging Heart sculpture.
Putting your money where your expertise is!
Last summer at Gilding's, a small auction room in Leicestershire, England, amid a mixed bag of run-of-the-mill paintings was one painting that attracted the interest of serious dealers and collectors. Catalogued as an "18th century continental school, half-length portrait of an aesthete" the painting showed a black-clad bearded man with a rather distant expression on his face. The piece was estimated at 300/500 pds. stlg. It sold, after heated bidding, for 205,000 pds. stlg. Right after the auction word soon spread through the market that the painting was probably a Titian, painted in Venice between 1510 and1520 and could be worth as much as 5 million pds. stlg. A great buy if it is indeed a Titian – but what if it isn't!
A few facts & figures:
It was reported recently that the estimated annual value of global art transactions is now at $1 trillion, that the approximate value of art transactions conducted through auction houses is around 30%, and that there are somewhere in the region of 100 active art investment funds in the world, with the largest, Fine Art Fund, holding assets under management of approximately $110 million. Christie's sale of Post War and Contemporary Art on May 13 in New York took in a total of $331 million, while the Canadian art market recorded auction sales of around $65 million in the 2006/07 auction year.