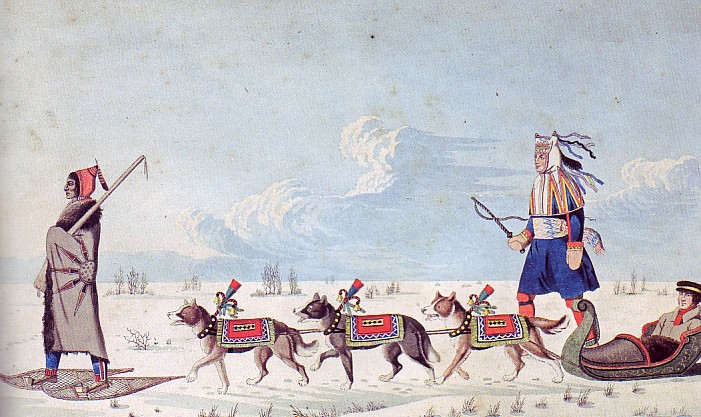 Toronto (20BP) – The inaugural sale in Canada for Bonhams, the world's third largest auction house, was a mixture of Canadiana, and Canadian and international works of art held at the St. Lawrence Hall on June 19. By all accounts it was a tremendous success with the evening's take of around $1.3 million highlighted by the exceptional watercolours of Peter Rindisbacher (1806-1834). The Swiss born Canadian/American is noted for his depictions of North American Native life and culture and this sale boasted no less than three important works by the artist. By far the most important was A Dog Cariole, 6.5" x 11" painted circa 1825 (illustrated right) and carrying an estimate of $80/120,000. It sold strongly for $252,000.
Blackfoot Hunting in Snow Shoes, another Rindisbacher watercolour, 10" x 14", fetched $132,000 against a $60/80,000 estimate while the artist's Indian Hunter Shooting at Bison Herd, 10" x 14", fetched a low estimate $60,000.
Jean-Paul Riopelle's Le chant de l'alouette, a 39" x 28.5" canvas from 1955 did well when it found a buyer at $228,000, well above its $125/150,000 estimate. Another Riopelle, Ca-ah, a 29" x 29" canvas from the late 1960s also exceeded expectations when it sold for $114,000 against a $60/80,000 estimate. Selling mid-estimate with a bid of $108,000 was Jean-Paul Lemieux's L'isle aux Coudres, an 18" x 50.5" canvas from 1959. Also selling mid-estimate with a bid of $84,000 was Marcelle Ferron's Le gypaete pourpre, a 51.5" x 38" canvas from 1959. Ferron's Composition, 29" x 36" sold on its high estimate with a bid of $60,000.
Marc-Aurele Fortin's Ste. Rose, Quebec, a 22" x 28" oil on board found a buyer on its high estimate at $90,000, while a large 42" x 60" canvas from F.M. Bell-Smith showing a Train Passing through the Fraser Canyon near an Indian Fishing Place comfortably exceeded its $15/20,000 estimate with a bid of $51,000.
One of the 'hot' artists in today's market is John Young Johnstone (1887-1930). In this sale Old House, Beauport, 5" x 7.5" painted in 1916 carried a $4/6000 estimate but found a buyer at a solid $14,400. Norval Morrisseau's work is also keenly contested and Medicine Man, 41" x 25" proved no exception finding a buyer at $24,000, well above its $5/6000 estimate. John Little's Rosemount Crescent, 24" x 30" sold for a mid estimate $16,800, and William Goodridge Robert's Still Life with Fruit and Flowers, 36" x 29", reached its estimate with a bid of $21,600.
Top price in a small session of international works was a bid of $12,000 for A.A. Glendening's Mounted Shepherd and Flock Returning Home, a 12" x 22" canvas from 1902 estimated at $6/8000. A highland scene with sheep and cattle by Charles Jones sold mid estimate with a bid of $4800, the same price realised for a pair of canvases 32.5" x 44.5" each of Turkish and European armies fighting for the Standard painted by a follower of Pieter Meulener (1602-1654).