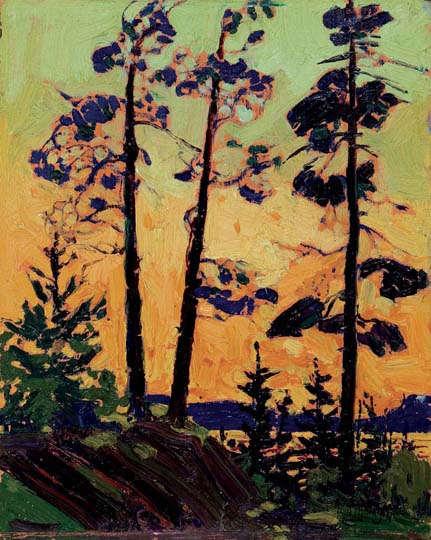 The spring auction season for Canadian art may have faltered from a total sales volume perspective, but it certainly didn't shy away from some impressive individual records that went some way to assuaging the disappointment that saw an end to the market's incredible winning streak of 11 consecutive years of total annual sales gains.
Combined the three major salesrooms posted around $26 million while a further million or so would have been added by the rest of the market for a total well under the approximately $35 million the market was looking for to turn in its 12th consecutive annual sales growth.
With the dip in sales volume also came a closing of the gap between the two market heavyweights, Sotheby's/Ritchies and Heffels. For the past few seasons Heffel has been far and away the most dominant of the three top rooms, posting sales on many occasions double that of the combined total of the Sotheby's and Joyner Fine Art. This did not happen this spring. Heffel saw its market leadership slip but not disappear, posting a sales total of $12.08 million (with buyer's premium) for their May 22 sale. Sotheby's were not far off the pace with a total of $10.8 million on May 26, while Joyner remained solid and consistent with $4.5 million on May 27th & 28th.
In a season that saw Tom Thomson cement his position as one of the most sought-after of Canadian artists with three of five works offered topping the million dollar mark, it was nevertheless some of the lesser names that grabbed the market limelight. Artists such as Sybil Andrews who stunned the market with works in excess of $100,000, and Edwin Holgate who has finally entered the elite $500,000 club. Overall, there were few significant disappointments at all this season with most of the high-ticket items finding buyers. What was missing was more of the high-ticket items!
The top price of the season was, needless to say, turned in by Tom Thomson, which in itself is a refreshing change from the more recent Lawren Harris dominated markets. Indeed, Harris has dropped a little in the past couple of seasons although to be honest there have not been the works to really challenge his usual strong prices. Thomson's Pine Trees at Sunset, a 10.5" x 8.25" oil on board painted circa 1915-16 (illustrated right) was offered at Sotheby's/Ritchies with an estimate of $900/1,100,000. While it was generally assumed it would sell within estimate few expected that it would actually be hammered down for $1,957,500, a new record for the artist. In total the five Thomsons offered this season generated an impressive $4,970,500 or close to 20% of the gross combined total of the three major rooms.
Although the top prices were reserved for the more established blue-chip artists the contemporary school was not shy in coming forward with some excellent prices of its own. Artists such as Ivan Eyre ($255,500), B.C. Binning ($117,500), Jean Philippe Dallaire ($267,000), Ronald Bloore ($111,750), Marcel Barbeau ($86,250), and Sam Borenstein ($57,500) all posted personal best prices as did many others in both the contemporary and representational fields.
The spring season also saw increased market competition with the inaugural sale in Canada of Canadian and international art by Bonhams, the world's third largest auction house. The sale, held in Toronto on June 19, produced a very credible $1.3 million total and in so doing announced to the rest of the market that there is a new player in town and one that should not be taken lightly.
All in all, then, an excellent season that saw buyers out in force looking to boost their holdings or shore up lagging investment portfolios with quality Canadian works, and the market at large enjoying one of its strongest seasons to date. More of the same is expected this fall as salerooms look to return the market to its winning record and hopefully start a new cycle of continuous annual sales gains.