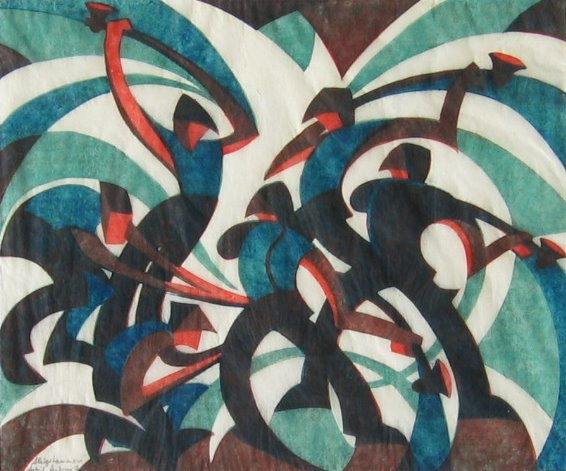 Vancouver (15BP) – The strength of Sybil Andrews' market continued unabated at Westbridge Fine Art Auction House on June 22 when a pristine copy of Sledgehammers (illustrated right) went on the block. Estimated at $25/35,000, a reflection of the recent market activity for Andrews' work, this rare linocut from 1933 became the focus of intense bidding from Canadian and international clients, finally selling to a phone bidder for an exceptional $69,000.
Another work to sell well above expectations was a mixed media and gold leaf canvas from Iranian artist Nasser Ovissi. Two Seated Horses in Gold, 33" x 26" from 1972 carried an estimate of $5/7000 but sold once again to a phone bidder for $14,950. Much was also expected from a colour woodblock from contemporary Japanese artist Shiko Munakata, but trouble with international phone lines meant that two potential bidders could not be reached in time to bid. However, Woman with Umbrella, from c.1964 still sold mid-estimate with a bid of $5700.
Four bronze sculptures from Russian artist Erte proved popular on the day with the largest of the pieces, Dream Birds, picking up the top price of $2875. A small wooden abstract sculpture from Canadian artist Peter Paul Ochs did well with a bid of $960, while British artist James Harwood's (1813-1872) The Last Appeal, a 30" x 25" canvas from 1870, found a buyer at a low estimate $2875.
The work of Mildred Valley Thornton is growing in popularity with five of the six pieces offered in this sale finding buyers. A small 13.75" x 10.5" portrait of Chief Red Dog sold on its high estimate with a bid of $3450, while two small but excellent watercolours of Kitwanga totem poles sold for $1150 and $1380 respectively.
Other prices of note in this small mixed sale of Canadian and international works include a bid of $1495 for John Kasyn's Farm Landscape, Winter, an 8" x 12" watercolour estimated at $9/1200, an above estimate bid of $3300 for Robert Genn's Looking back toward Port Renfrew, a 20" x 24" canvas estimated at $25/3000, and $1495 for Paul Bernard Earle's Treed Landscape, a 10" x 13.5" panel from 1923 estimated at $9/1200.
Four works form Nigeria were also keenly contested with one piece A Palm Wine Tapper 24" x 24" by Twins Seven Seven doing the best with a bid of $1320. An indistinctly signed 19th century Italian School canvas of Two Ladies at a Window did well when it found a buyer at $2300, just above its high estimate, while Peter Clapham Shepherd's Prospect Lake, Muskoka, a 10.5" x 13.75" oil on board did well when it sold for $1610.