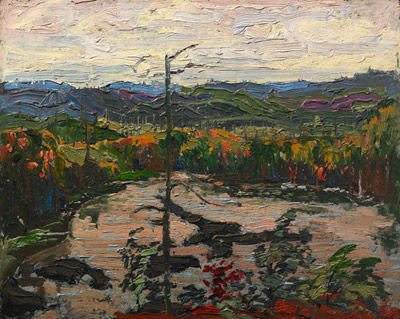 Toronto (15BP) – It may have crept in under the wire as a late addition 'A' lot to Joyner Fine Art's May 27th & 28th sale, but Tom Thomson's View from a Height, Algonquin Park, Fall 1916 (illustrated right) wasted no time in reaching its high estimate of $1,207,500, the top price of the sale. Despite the excellent price there were many observers who expected this piece to go higher, and perhaps even challenge the artist's record price set across town the day before. But unfortunately it was not to be. Perhaps there were just too many Thomson sketches on the market at one time – five in one week - to allow this piece to do better.
The strong two-session sale produced a solid $4.5 million total with, as always, most of the action being reserved for the first session. Leading a selection of pieces that topped the $100,000 mark was A.Y. Jackson's Quebec Village, Winter, an 8.5" x 10.5" panel from circa 1925. Estimated at $30/40,000 it sold for an impressive $138,000.
Two lots picked up bids of $126,500. A wonderful 8" x 10" still life of Leaves and Flowers painted in 1916 by J.E.H. MacDonald, estimated at $30/50,000 and Robert Pilot's Quebec in Winter, a 28" x 36" canvas from 1938 estimated at $125/150,000. A bid of $120,750 was taken for Robert Reginald Whale's Panoramic View of Niagara Falls with a Michigan Central Railway Train, a 30" x 48" canvas estimated at $50/60,000.
Selling mid-estimate at $92,000 was Algonquin Park, a 14" x 9" oil on board from circa 1916 by Lawren Harris. An Algoma sketch from the same artist also did well when it found a buyer at $86,250, while A.J. Casson's The Railway Station in Uxbridge, 1926, a 9.5" x 11" oil on board estimated at $20/25,000 comfortably exceeded expectations with a bid of $69,000.
In light of the current popularity of Sybil Andrews' linocuts it came as no surprise that her delightful image of Racing from 1934 exceeded its $30/40,000 estimate. It sold for $55,200. William Kurelek's Prairie Call to Cold Company, a 24" x 24" mixed media from 1975 topped its estimate with a $48,300 bid, while the artist's I Didn't Mean to Do It, a 13.5" x 9" mixed media fetched $32,200 against a $12/15,000 estimate. Franklin Carmichael's Hills and Water watercolour from 1925 lived up to expectations finding a buyer at $43,700.
John Little's 12" x 16" canvas of a young girl walking in a snowy street did well when it fetched $21,850 against an $8/10,000 estimate, and Marc-Aurele Fortin's watercolour Vue sur Hochelaga, 11" x 14.5" surpassed its $20/30,000 estimate with a bid of $48,300. A large and impressive watercolour of Mt. Intchekai, Howe Sound, July 1888 by Lucius O'Brien proved very popular. Estimated at $10/12,000 the 19" x 28" image sold for $32,200. Also popular was Jean-Paul Riopelle's No. 97 Abstract Composition, an 18" x 15" canvas from 1977 that sold on its high estimate for $50,600.
Other prices of note include a bid of $14,950 for Bertram Brooker's Floral Abstract, 12" x 10", $46,000 for Lawren Harris' Moose Lake, Haliburton, 8" x 10", $34,500 for Young Girl in a Garden an 18" x 22" canvas from 1900 by Laura Muntz, and $14,950 for John McEwen's Five Horses, five bronzes executed in 1979 and estimated at $5/7000.
There were two prices worthy of mention in the second session. The Cathcart Album containing 75 watercolours, drawings and letters pertaining to Lord Cathcart and Lord Elgin, Governors General of Canada circa 1819-1857 did well when it found a buyer at $31,200 well above its $5/7000 estimate. Even more impressive was the $15,600 paid for Jori Smith's Rose and Her Mother, Madam Louisa Tremblay a 9" x 12" oil on board from 1934 estimated at $4/600.