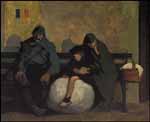 Vancouver (15BP) – It wasn't $22 million, nor even $19 million, but Heffel Fine Art's May 22nd sale was still the fifth most successful Canadian art auction to date with sales just topping the $12 million mark. The top three sales also belong to these rooms. Dropping $7 million from its previous session might be viewed by some as a major setback for this aggressive salesroom, but it is clear from the prices realised that the only setback was a shortage of works that could command stellar prices. What was offered, for the most part, performed extremely well, and, in some cases, exceptionally well.
As was expected the sale's top lot was Tom Thomson's Tamarack Swamp, an 8.5" x 10.5" panel estimated at $400/600,000. The estimate was considered a little too conservative by most observers and this proved to be the case with the final price of $1,150,000. Two other Thomsons in the sale also did well. Poplar Point, Rock, Sun sold on it's high estimate at $450,000 while an intriguing little oil on board, 6.5" x 6.5" of a Thunderstorm comfortably exceed its $60/80,000 expectation with a bid of $195,500.
The sale got off to an incredible start with Sybil Andrews' linocut Speedway soaring to a new auction record with a bid of $103,500 against a rather too conservative estimate of $20/30,000. Two lots latter Flower Girls, a relatively minor linocut by the same artist shattered this record with an unprecedented bid of $109,250 against an estimate of $12/15,000. Wedged in between the two was Rush Hour estimated at $10/15,000. It sold for $86,250. Four other works by Andrews all comfortably topped their estimates causing auctioneer David Heffel to comment that he wished he had a complete sale of Andrews works.
But he didn't need it because the rest of the sale proved to be equally as impressive. Franklin Carmichael's Bay of Islands watercolour from 1929 found a buyer at $218,500 well above its $40/60,000 estimate while A.Y. Jackson's Street in Baie Saint-Paul, 8.5" x 10.5" from c.1924 left its $60/80,000 estimate way behind with a bid of $184,000, the same price realised for a Lawren Harris panel In the Agawa Valley, Algoma Sketch V.
One of the undoubted highlights of the sale was Edwin Holgate's Near Amiens, a 20" x 24" canvas painted in 1918 (illustrated right). Showing a soldier and two civilians at a railway station the masterpiece was estimated at $100/150,000 but was clearly destined to do much better. And it did, selling after heated bidding for $575,000 a new record for the artist. Also setting a new artist's record was A.Y. Jackson's Winter Afternoon near Baie Saint Paul, Quebec. The 20" x 26.5" canvas from c.1924 carried a strong estimate of $500/600,000 and didn't disappoint with a hammer price of $525,000 ($603,750 with premium). Finding a buyer at the same price was Helen McNicoll's Watching the Boat, a 25" x 30" canvas from 1912. Estimated at $125/175,000 this attractive figurative work wasted no time in reaching its new record price.
One of the star lots in the sale was Frederick Varley's Norma, a double-sided canvas from 1933 that measured 40" x 33". Norma Park was one of Varley's favourite models although perhaps not as well known as Vera Weatherbie. Nevertheless this was an outstanding canvas and many in the audience expected this piece, with an estimate of $600/800,000 to comfortably exceed the million mark. Strangely and unexplicably this was not to be. Indeed the salesroom was clearly grateful to get a mid-estimate bid of $690,000. And the buyer was clearly fortunate to have 'stolen' such an important work.
Frederick Varley's Dusk – Tantalus Range, 12" x 15" did well finding a buyer at $402,500 well above its $175/225,000 estimate. David Milne's White Cloud, Boston Corners, a 20" x 26" canvas from 1917 also did well selling on its low estimate for $402,500.
That H. Mabel May's Village from the Hill, an 18" x 22" canvas from c.1925 did better than estimate was not a surprise. That it did extremely better than estimate was also not a surprise. But that it literally blew its estimate away – that was a surprise. The colourful and attractive landscape was clearly going to do better than its $18/22,000 estimate but few would have guessed it would eventually sell after heated bidding for a phenomenal $218,500.
Other prices of note in this solid sale include the $431,250 bid for A.Y. Jackson's Great Bear Lake, a 32" x 40" canvas that was estimated at $125/175,000. Another view of Great Bear Lake, 25" x 32" fetched $184,000 against an $80/120,000 estimate. Samuel Borenstein's Sunflowers, 40" x 30" doubled its mid estimate with a bid of $57,500, while Marcel Barbeau's Ouvri set a new record for the artist when the 30" x 40" canvas from 1956 found a buyer at $86,250 well above its $15/20,000 estimate.
B.C. Binning's Coast Wise Signals, an11.5" x 18" oil on burlap on board from 1954 did well with a bid of $63,250 against a $15/20,000 estimate. This was a new, but short-lived record for the artist, a new record being set at Sotheby's a few days later.