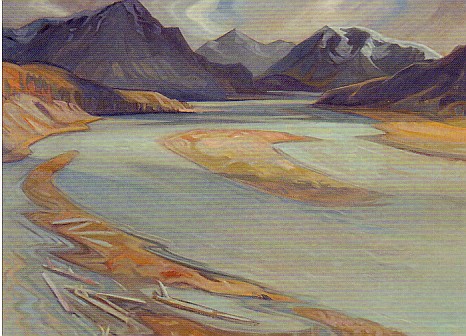 Calgary (15BP) – As is traditional, Levis Art Auctions kicked off the spring season of sales in Canada on April 20th, and, once again produced some excellent prices en route to a $470,000 session that saw 85% of the lots sold with an average price per lot sitting at the high end of the estimate. Hopefully this sets a strong and positive precedent for the rest of the spring season.
Taking the honours for top lot in the sale was H.G. Glyde's The Athabaska – Canadian Rockies, a 30" x 40" canvas estimated at $20/25,000 that found a buyer at $20,700 (illustrated right). An artist whose market has grown in leaps and bounds over the past few years, assisted no doubt but the apparent scarcity of works, is Peter Whyte (1905-1966). His 11" x 14" view of Lake O'Hara picked up a bid of $19,550. Painted in 1938 the piece was estimated at $6/8000.
William McElcheran's bronze sculpture of The Mediator, 28.5" x 11" from 1996 did well with a bid of $12,650, while a Max Bates canvas, 24" x 30" from 1965 of a Landscape, Sidney, B.C. fetched an above estimate $8050. Bruno Bobak's Renous, a 15" x 21" oil on board did well when it found a buyer at $3450, well above its $15/2000 estimate. Caroline Armington's 10.5" x 8" panel La Turbie from 1918 sold comfortably within its estimate of $3/4000 with a bid $3738, while doing better than expected was Alan Collier's Salvage Cove, Newfoundland a 16" x 20" oil on board that fetched $3795 against a $2/2500 estimate.
In an impressive addendum that included something like 35 works that missed the regular catalogue deadline was a collection of no less than 26 works by Roland Gissing all from one consignor. Most found buyers with the best price being reserved for Oil Rig, a 36" x 30" canvas dated circa 1950 that was estimated at $6/8000. It sold for $10,925. Finding a buyer at $9200, well above its $4/5000 estimate was the artist's September Shower, 22" x 30", while Chinook Country, 22" x 30" picked up an above estimate bid of $5750. Also in the addendum was William Panko's Home in Drumheller Valley, an 11.5" x 16" watercolour estimated at $25/3500. It sold for $10,925. The same price was realised for the artist's Jasper Holiday, another watercolour with a similar estimate.
Popular Alberta artist Janet Mitchell had several works on offer in this sale, with the top price going to a 20" x 24" acrylic on board of Colourful People. Painted in 1968 it sold for a high estimate $5175. Colourful Traffic, a watercolour from the same artist painted in 1967 also did well with a bid of $3738 against a $3/4000 estimate.
Robert Genn's 30" x 34" acrylic on canvas entitled The Far Shore from 1985 sold within estimate with a bid of $4140, John Kasyn's 7" x 11" watercolour of Wellington St. West topped its $15/1800 estimate with a bid of $2990, and a watercolour of a Rocky Mountain River by T. Mower Martin did well with a bid of $2300, the proceeds going to the Kelowna Art Gallery.
Among a session of contemporary works Herbert Siebner's Eternal Giant, a 27" x 21.5" mixed media from 1969 sold within estimate when it found a buyer at $5750. Doing much better than expected was Marion Nicoll's Fishing Boats, Naxos, a 12" x 15" oil on board from 1959. Estimated at $2/2500 it fetched an impressive $6325.
Other prices of note include a bid of $4600 for Allen Sapp's I Was a Little Boy at the Time, a 24" x 30" acrylic estimated at $4/5000, and a bid of $4312 for Peter Shostak's Mom will be Angry if we get Water in our Boots, a 20" x 36" canvas from 1993 estimated at $25/3000. Claude Simard's Au Mois d'Aout, 36" x 48" sold with estimate with a bid of $4600 while William Stevenson's Old Bridge, 24" x 30" estimated at $35/4500 topped its mark with a bid of $4888.