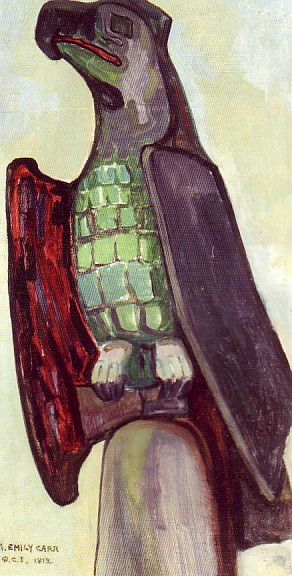 Ottawa (15BP) – There can be few things more encouraging for an auctioneer than to start the sale off with a $100,000 bid, but that's exactly the way it was for Walker's in their December 5th offering of Canadian and International paintings. The auction got underway with 56 lots of international works and the opening lot was Russian artist Ivan Pokhitonov's Sur la Plage, Biarritz, a tiny 4" x 7.25" panel painted in 1885. Estimated at $25/35,000 it soared to a very impressive $103,500.
Five lots later it was more of the same with Felix Ziem's The Bosphorus at Sunset, Istanbul, an 18" x 28" panel finding a buyer at $120,750 against a $25/35,000 estimate. Charles Francois Daubigny's Grazing by Riverbank with a Boater Beyond, a 13" x 22.5" panel from 1876 also did well when it sold for an above estimate $46,000. Improving on its $8/12,000 estimate was Indian painter Shanti Dave's Winter, a 30" x 48" oil on board from 1957 that fetched an impressive $25,300. Fellow Indian artist Gulam Santosh had his Huts in Kashmir sell for a mid estimate $17,250.
Another of the international highlights was a 23.5" x 32" canvas from German artist Otto Dix. The Masquerade carried a $100/125,000 estimate and performed to expectations with a bid of $115,000. Also doing well was Frank Myer Boggs' Navigating the Canal, a 15" x 22" canvas that sold for a high estimate $7475.
The Canadian session got off to a promising start with a high estimate bid of $8280 for John Little's Summer Day, Twenty-Five Years Ago, St. John, New Brunswick, a 24" x 30" canvas from 1981. However, the real highlights of this session were two fairly late additions to the sale from the brush of Emily Carr. Bird Totem, a 25" x 13" oil on board (illustrated right) painted in the Queen Charlotte Islands in 1912 carried a pre-sale estimate of $150/250,000. While the salesroom might have been looking to the high end of the estimate for this one, the apparent softening of the Carr market this fall likely had an impact on this piece, the final selling price being a bid of $184,000. A second piece this time a 32" x 24" watercolour of Kitwancool, B.C. carried a $125/175,000 estimate but fell somewhat short of the mark with a bid of $97,500. However, in light of the fact that the painting was almost sketch-like and somewhat monochromatic in colour, the price can be considered good overall I think.
Two works by A.Y. Jackson also performed strongly at this sale. River in Autumn, 16" x 20", fetched a low estimate $34,500, while a more appealing late addition entitled Sugar Bush at Ripon, Quebec, 20" x 26" fetched $92,000 against a $120/150,000 estimate. Again we have seen a softening in Jackson's market this fall which might have been a factor in the below-estimate bid.
A strong 11.75" x 13.75" panel of King George Hotel, Kaslo, B.C. painted in 1931 by B.C. artist Nan Lawson Cheney topped its estimate with a bid of $7187, and Marc-Aurele Fortin's House at Sunset, Quebec, 8" x 8.5" reached its low estimate with a bid of $8050. Arthur Lismer's Starfish and Seaweed, 12" x 16", exhibited with the Canadian Group of Painters in 1957 found a buyer above estimate at $17,250 while Norman Hudon's The Hockey Game, 20" x 24" from 1983 fetched $11,500 against a $5/7000 estimate.
Also of note was a bid of $11,500 for Claude Tousignant's Esquisse pour un grand tableaux, a pair of circular oils 12" in diameter that were estimated at $8/10,000, and Leon Bellefleur's Echo de joie, a 20" x 24" canvas from 1998 that also sold for $11,500 against an estimate of $10/12,000.