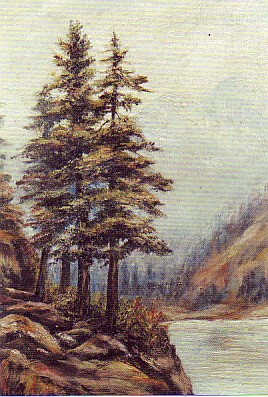 Calgary (15BP) – A solid fall offering of Canadian and some international paintings was served up by Levis Art Auctions November 18th. The sale generated around $500,000 and saw more than 80% of the lots finding buyers. The auction got off to an excellent start with a bid of $18,975 for a Sybil Andrews colour linoblock of Bathers from 1930 that was estimated at $8/10,000. Indian Dance, another Andrews linoblock fetched a low estimate $3450.
The top lot of the sale, although falling well below expectations, was a bid of $23,000 for an untitled work of Sproat Lake by Emily Carr (illustrated right). Painted circa 1908-09, the 14" x 10" oil on board carried a perhaps somewhat optimistic estimate of $40/50,000. This was one of several Carr "casualties" throughout the fall season leading some observers to ask if her market has risen a little too dramatically in recent seasons.
Two other works from the artist were also offered in this sale and both faired close to expectations. Coastal Range, Inside Passage, a 5" x 7" watercolour estimated at $12/15,000 sold for $10,350, the same price realized for Olympian Range from Beacon Hill, Victoria, B.C., 2.25" x 8.25". A bid of $10,350 was also taken for John Kasyn's On Lippincott St., Toronto, a 14" x 18" oil on board estimated at $10/12,000.
The ever popular Roland Gissing's work did well when Bow River near Exshaw, a 24" x 30" canvas estimated at $35/4500 picked up a bid of $8050, while the artist's Ghost Lake, 13.5" x 18" sold for a high estimate $2070.
$10,350 seems to have been a poplar price on the day as two more works, both by Maud Lewis, turned in the same figure. Horse Drawn Sleigh in Winter, 12.75" x 13.75" was estimated at $55/6500, as was the smaller Nova Scotia Harbour in Autumn, 8.75" x 12". Finding a buyer at $12,650 was John Little's Cote Ste. Marie, Quebec, a 24" x 30" canvas estimated at $9/12,000.
Doris McCarthy's Moberley's Cabin near Jasper, a 12" x 16" oil on board sold just under its low estimate with a bid of $2875, while William McElcheran's bronze sculpture Upturned Collar, 30.5" high, fetched a mid-estimate $13,225. Joe Plaskett's oil of Summer Flowers, 30" x 41", painted in 1954 did well when it found a buyer at $11,385, well above its $7/8000 estimate. A late entry into the sale was Peter Whyte's High Country, a 10" x 12" canvas with an estimate of $5/6000. It sold for $12,650.
Other prices of note include a bid of $9200 for Bengt Lindstrom's Djur – Vannen, a 25.5" x 21.25" canvas estimated at $4/5000, and another $9200 for Arthur McKay's Mandala for a Small Demon, a 44.75" square enamel on board estimated at $10/15,000. Otto Rogers' Atmospheric Fabric, a 48" x 60" canvas from 1980 picked up an above estimate bid of $6325, the same price realized for Herbert Siebner's It Happened in the Park, a 24" x 30" oil on board from 1965 estimated at $5/6000. John Taylor's Badlands, 24" x 28" doubled its estimate with a bid of $4715, while Dutch artist Paul Gabriel's canvas of A Cattle Wagon on a Road at Dusk bettered its mark with a bid of $6900.
Illingworth Kerr's O'Hara by Night, a 16" x 20" oil on board from 1983 sold well above its $35/4500 estimate with a bid of $7762.50, while John Little's Sketch – Montreal Est., 12" x 16" from 1976 also bettered its expectations with a bid of $7475.