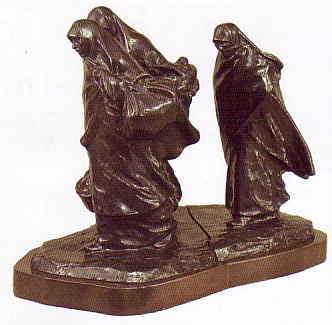 Calgary (15BP) – Enjoying one of their strongest sales ever, Hodgins Art Auctions posted a solid $770,500 for their two session Canadian and International art auction November 26th & 27th, 2007 with just 12% of the lots failing to find a buyer. The highlight of the sale was the $36,800 bid for Femmes de Caughnawaga, a 17" high bronze by Marc-Aurele de Foy Suzor-Cote (illustrated right) estimated at $30/35,000.
Another strong price was recorded for William Kurelek's The Dream of Emmett Maddix, a 36" x 22" mixed media on board. Estimated at $20/30,000 it sold for $31,050. Also doing well was the artist's B.C. Bennett Highway, a 29" x 29" mixed media that realized a mid estimate $12,650.
A.Y. Jackson's Georgian Bay, a 10.5" x 13" canvas from 1920 found a buyer above estimate at $26,450 while Illingworth Kerr's Beaver Flats – Elbow River Forest Reserve, a 24" x 34" canvas from 1980 fetched $10,925 well above its $7/9000 estimate.
Walter J. Phillips' Indian Days, Banff, a colour woodcut, 10" x 15.5" did really well when it found a buyer at $15,525 well above its $7/9000 estimate, while the artist's York Boat on Lake Winnipeg, another woodcut, fetched $23,000 against a $10/15,000 estimate. Summer Idyll, another popular Phillips woodcut image, also performed strongly, taking a bid of $18,400 against a $12/15,000 estimate. Clearly a good night for Phillips, the artist's portfolio of 10 wood engravings entitled An Essay in Woodcuts was keenly contested and finally sold for $11,500, well above its $4/6000 estimate.
For Peter Sheppard fans a good price, albeit below estimate, was realized for the artist's Mill Town, a 30" x 36" canvas from 1949. It sold for $10,925 against a $12/15,000 estimate. Allen Sapp's Cutting Oats, a 24" x 36" acrylic on canvas from 1970 did extremely well with a bid of $12,075 against expectations of $35/4500, while Big Boys Playing Hockey, 12" x 16" fetched $4830, almost double its $2500 high estimate. Also doing well was Ron Bolt's Beach Bones at Long Beach, a 35" x 60" canvas that doubled its estimate with a bid of $8050. Walking Buffalo was the subject of Nicholas de Grandmaison's pastel portrait, 26" x 18.5" that sold for a mid estimate $16,100.
Frederick Verner's watercolour of Indian Hunters from 1869 picked up a low estimate bid of $9200, and William McElcheran's Businessmen under an Archway, an 18.5" x 16.5" bronze from 1984 realised an impressive $5865, well ahead of its $25/3500 estimate. Another bronze to do well was Alfred Laliberte's Conteur de Contes, 19.5" x 19" from 1928. Estimated at $14/18,000 it sold for $16,100.
Other prices of note include a bid of $6900 for Maud Lewis's Oxen and Logging Sleigh, a 12" x 14" oil on board estimated at $4500/6500. Joe Norris's Village and Harbour, 20" x 36" sold for a high estimate $6325, Randolph Hewton's Woodland Nymphs, a 22" x 16" canvas fetched $3910, Clarence Tillenius' delightful Snowshoe Hare, a 14" x 18" canvas from 1953 fetched a double estimate $2875, and Gabor Nagy's Kea Lani Swirl, 38" x 62" picked up a bid of $6325 against a $3/5000 estimate.
Among a small offering of international works in this sale a bid of $11,500 was taken for Pablo Picasso's Le Picador II, a lithograph from 1961 estimated at $10/15,000. Picking up a similar price was Andy Warhol's Campbell's Soup Can (Tomato), a 26" x 20" serigraph also estimated at $10/15,000. An untitled lithograph by Joan Miro sold for a high estimate $3910, and a bronze sculpture of a crouching nude by Antoniucci Volti fetched a mid estimate $4600.