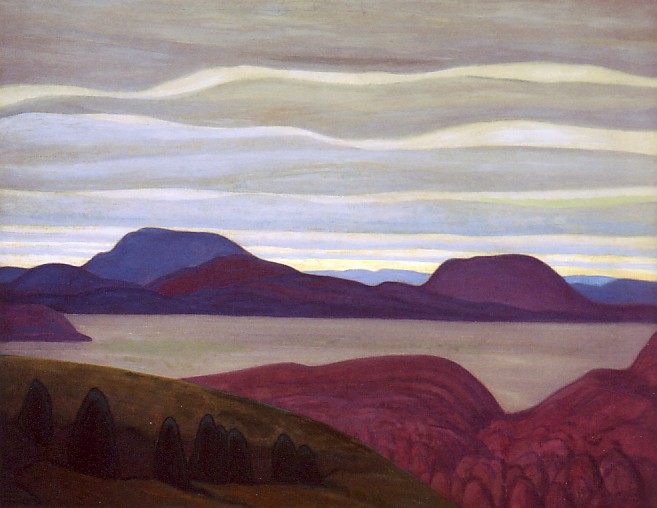 The spring season of 2007 set a new record for the Canadian art market accounting for almost $40 million in sales, while the overall 2006/07 year produced $65 million ($75 million with the buyer's premium). Some observers thought it was an aberration, others saw it as lucky, while most thought that it might be a while before the market bettered this exceptional performance. All may be wrong. With the fall season just completed the market, despite some high-ticket disappointments, still rallied to an very solid $35/36 million total and puts it squarely on course to turn in the twelfth consecutive annual total sales gain.
Leading the way as we have come to accept in recent years was Heffel Fine Art Auction House based in Vancouver but with offices in Toronto, Montreal and Ottawa. Their fall sale on November 23rd in Toronto carried a pre-sale estimate of $13/18 million, a higher estimate than the spring sale that turned in $22.8 million. However, due to a dip in interest in works by such artists as Emily Carr and Cornelius Krieghoff, the total actually dropped off a little from the spring, coming in at around $19 million. Sotheby's/Ritchies pre-sale estimate for their November 19th sale was set at a conservative $6.1/$8.5 million, and the sale comfortably exceed expectations with a final total of $10.5 million. Joyner Fine Art also improved on expectations with their November 20th and 21st sale turning in a solid $5 million against a $3/4 million estimate.
Strong sessions in the smaller provincial rooms such as Levis Art Auctions and Hodgins Art Auctions in Calgary, Walkers in Ottawa, and Ritchie's in Toronto contributed to what, for the time being at least, will go in the record books as the second most successful season on record.
Although the dollar values were high, the market did reject more than usual, the overall buy-in rate for the major salesrooms coming in at close to 20% against a more normal 10/15%. With a good selection of works on offer and pre-sale estimates for the most part not unrealistic, it is likely that the art market is starting to feel the affects of downturns in other investment sectors. Since the stellar auction results of this past spring the Canadian dollar has soared to unprecedented heights which might be great for cross-border clothes shoppers but may well have had an adverse effect on the Canadian art market, especially where American buyers are concerned, and for those heavily invested in the American markets. Add to this a slow down in both the real estate and stock markets – both traditional sources of art investment income – and a historical need for the Canadian art market to correct, and we have enough factors that either individually or together may have had a negative impact on the home market. A further concern has to be the recent set-back in New York with the failure of such big-ticket items as Van Gogh and Picasso, and the stock market's quick response by dropping the value of Sotheby's shares by around 30%.
Clearly these factors had an effect on the market, but not enough to dampen the spirit of major collectors in the hunt for works by Lawren Harris, David Milne and Tom Thomson. And Heffel had a good offering of each artist. Their $19 million session had no less than five works topping the million dollar market with Lawren Harris' Grey Day, North Shore, Lake Superior taking the honours for the season's most expensive painting when it sold for $1,782,500 (illustrated right). A definite surprise, although perhaps long overdue, was the new record price for a David Milne that was set at this sale. Snow Patches, Boston Corners, NY carried a pre-sale estimate of $400/600,000 but quickly left this behind on route to a record-setting $1,437,500. Also breaking a million (with premium) were two Tom Thomsons including Northern Lights at $1,150,000, and another Lawren Harris, Houses, at $1,380,000.
Sotheby's was the first of the big-three salesrooms to hit the market and, while none of the works offered went over a million, several did extremely well, including the top lot of the session, Marc-Aurele Fortin's Les Grands Arbes which set a new record for the artist at $807,500. Tom Thomson's Algonquin Park fetched $635,000 and A.Y. Jackson's Ontario Mining Town, Cobalt smashed through its $125/175,000 estimate towards a final price of $520,000.
Not to be left out of the headlines, Joyner set a spectacular new record for a work by Tom Thomson when Winter Thaw from 1917, estimated at $300/400,000 leaped to an amazing $1,463,500. Proving that Fortin's market is definitely on the rise, Joyner sold Chaumiers Canadienne at $427,500, while Jean McEwen's Arc-en-Ciel Rouge tripled its estimate with a bid of $97,500.
Elsewhere throughout the market prices were equally strong. In Calgary Levis Art Auctions turned in a solid $600,000 session that included a session of furniture and a bid of $23,000 for an early Emily Carr watercolour of Sproat Lake, and $18,975 for a Sybil Andrews colour linoblock of Bathers. Across town Hodgins Art Auctions had one of their best sales on record, with a total of $770,500. Highlighting this sale was a Suzor-Cote bronze of Femmes de Caughnawaga that sold for $36,800, while William Kurelek's Dream of Emmett Maddix fetched $31,050. Also posting strong results were several W.J. Phillips woodcuts including York Boats at $23,000.
Walkers in Ottawa posted a strong session of Canadian and International works with one of two paintings, Bird Totem, from Emily Carr stealing the limelight with a bid of $184,000. A.Y. Jackson's Sugar Bush at Ripon, Quebec fetched $92,000 and several international works topped the $100,000 mark, the best being Felix Ziem's Bosphorus at Sunset which picked up a bid of $120,750.
So, despite a few setbacks, and some general uncertainty in the economy overall, the Canadian art market still managed a more than creditable performance this fall. Which as always begs the question: What awaits us next spring? I have no doubt there will be an outstanding selection of paintings waiting to be bought, and with a pre-sale value that will comfortably take us to yet another annual record. But will the buyers be on hand? Will adverse events in other investment sectors catch up with the Canadian art market? I guess we'll just have to wait and see - as always!