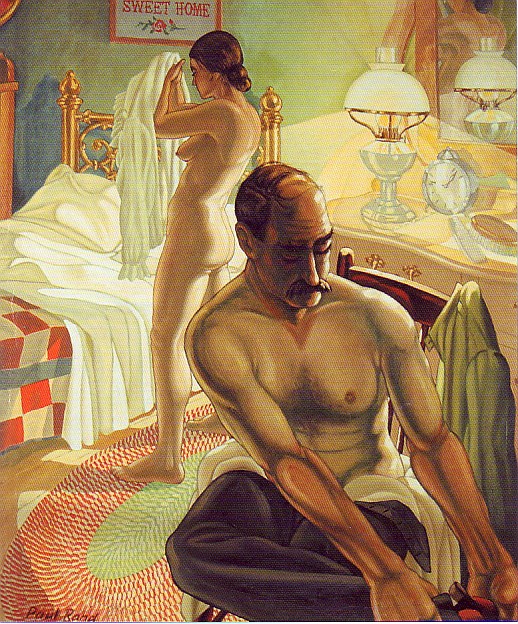 Calgary (15BP) – Setting the tone for a record-breaking spring season for the Canadian art market, Levis Art Auctions produced an excellent mixed sale of Canadian and international works April 22nd in Calgary. The sale had an 83% selling rate from more than 530 lots. Posting the strongest price of the session with a low estimate bid of $18,400 was Nicholas de Grandmaison's oil on board of a Lady with a Pipe. Missing out on its estimate, yet still doing well was the artist's pastel portrait of an Alberta Plains Indian. The 25.5" x 18" image from c. 1958 fetched $13,225.
Setting a record for the artist, and picking up a premium-inclusive bid of $14,950 was Paul Rand's Bed Time, (illustrated right) a magnificent figurative work c.1940. The 47.5" x 41.75" canvas had been featured in several important public exhibitions and carried a $15/20,000 estimate.
Finding buyers at $12,075 each were two watercolours by F.M. Bell-Smith, both his popular London scenes. Hyde Park, London, an oil on board, 4.25" x 5.5" carried an estimated of $35/4500, as did a similar sized view of The Thames Embankment, London.
Smiling Businessman with Briefcase was the title of a William McElcheran bronze sculpture from 1996 that sold within estimate for $12,650. Norval Morrisseau's Spirit Birds, a 30" x 38" acrylic on board from 1989 sold on its low estimate for $5175, the same price realized for Spiritual Guides Conflicting, 26" x 34" from 1979. Also finding a buyer at $5175 was Maxwell Bates's Waiting for the Grant, a 19.5" x 15.5" oil on board from 1964 estimated at $45/6500.
Thomas Beament's West Indian Island Ferry, 24" x 30" found a buyer at a below estimate $4600, while Alan Collier's Iskut Valley, by the Stewart Cassiar Road, Northern B.C. 16" x 36", sold for $4312 against a $3/3500 estimate. Molly Bobak's Late Summer Flowers, a 22.5" x 16.5" watercolour sold for $1955 against a $12/1500 estimate while the artist's Tangled Poppies, also a watercolour, fetched $1840.
Other prices of note include a bid of $3680 for Richard Ferrier's Prairie Patterns, 40" x 60" estimated at $25/3000, a bid of $3737 for Albert Franck's Toronto Back Alley, a 11.5" x 9.5" watercolour estimated at $2/2500, and $4600 for Roland Gissing's Kootenay River, an 18" x 24" canvas from 1955 estimated at $2/2500. The same price was realized for a Goodride Roberts oil, 12" x 16", of a Windy Day, Georgian Bay, estimated at $4/4500. Finding a buyer at $1840 was a W.J. Phillips watercolour of the Port of Montreal painted in 1936.
A group of works by Margaret Shelton did well, the best, Horseshoe Canyon, a 12" x 15.75" oil on paper estimated at $2/2500 sold for $4370. And mention should also be made of William Stevenson's Creek near Okotoks, a 24" x 30" oil on board that sold for a double estimate $4830.