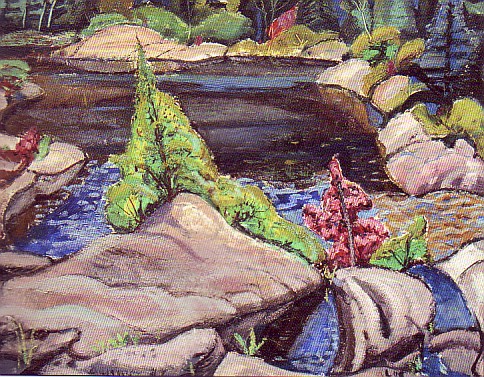 Calgary (15BP) – Auction-goers were greeted with a strong two-session auction of Canadian and international paintings at Hodgins Art Auctions May 27 & 28. The undisputed star of the show was Arthur Lismer's July in Georgian Bay, a 16" x 20" oil on board from 1947 (illustrated right). Estimated at $30/40,000 it sold aggressively for $97,750.
A.Y. Jackson's Dome Lake, Northern Saskatchewan, a 10.5" x 13.5" oil on panel from 1957 achieved its expectations when it found a buyer at a high-estimate $24,150, the same price as the artist's 1965 panel of Rapids on Magpie River which did better than its $15/18,000 estimate. Sticking with the Group of Seven, J.E.H. MacDonald's 8.5" x 10.5" panel of Barbados from 1932 topped its $8/12,000 estimate with a bid of $13,800.
H.G. Glyde seldom disappoints on his home Alberta turf and this sale proved no exception. Jasper Highway, a 16" x 20" oil on board from 1965 more than doubled its high estimate with a bid of $16,675, while Near Banff, also 16" x 20" from 1965 fetched $9200 against a $5/7000 estimate. From the same period and against the same estimate the artist's Farm East of Edmonton took a bid of $8625.
Other prices of note include a bid of $16,100 for Kathleen Moir Morris' Village Street, a 10" x 8.5" oil on board from 1920 estimated at $18/22,000. The winning bid for Daphne Odjig's The Dream Speaker, a 24" x 20" acrylic on canvas form 1993 estimated at $4/6000 was $9200.A Maxwell Bates canvas, 24" x 30" of Spring Snow topped its market with a bid of $9200, while Illingworth Kerr's Beaver Jungle, 28" x 38" fetched a mid-estimate $10,350. Kerr's Mountain Moonlight, 12" x 16" also did well selling for $5520 well above its $25/3000 estimate.
A good price was achieved for Lake of the Woods, an 8.5" x 10.75" watercolour by W.J. Phillips. Estimated at $4/6000 it found a buyer at $8337. Two Lakes, a colour woodcut from the same artist fetched a high estimate $4140. An 1882 watercolour of an Indian Encampment on the Shore of a Lake by Frederick Verner sold well taking a bid of $6612 against a $4/5000 estimate, while Brian Atyeo's Spring's Release – Algoma, a 47.5" x 59.5" acrylic on canvas realized a high estimate $5175.