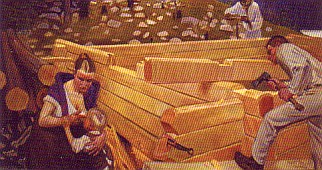 Ottawa (15BP) – A small session of international paintings preceded a more extensive offering of Canadian works at Walker's June 19, but nonetheless produced the top lot of the day, a $69,000 bid for Finnish artist Akseli Gallen-Kallela's Building, a 30" x 55" preparatory canvas "sketch" (illustrated right) for one of eight frescoes in the Juselius Mausoleam in Pori, Finland. It was estimated at $30/50,000.
Finding a buyer at a high estimate $63,250 was Felix Ziem's The Grand Canal & Doge's Palace, Venice, a 32" x 26" canvas, while Theodore Rousseau's Paysage, après l'Orage, a 17" x 25" canvas estimated at $40/60,000 picked up a bid of $48,875. Also of note among the international works was a bid of $18,400 for an Antoine Bouvard Venetian view, and $18,975 for an Orientalist work by British artist Frank Dean Herding Sheep by the Nile estimated at $4/6000.
Leading a solid session of Canadian works was John Lyman's The Book, a 12" x 16" panel from 1925. Estimated at $12/16,000 it comfortably exceeded expectations with a bid of $46,000. Edging into its estimate range with a bid of $21,850 was Randolph Hewton's The Open Window, a 24" x 20" canvas painted circa 1925.
The session got off to an excellent start with the sale of David Milne's drypoint etching Waterfall from 1930. It sold at the high end of its estimate with a bid of $27,600. Finding a buyer mid estimate at $12,650 was Thomas Garside's Stopping for a Chat, Eastern Townships, and 18" x 24" canvas, while James Henderson's Early Evening Glow, 14" x 18" sold above estimate for $5750.
Also of note were four works by Norval Morrisseau. Each an acrylic on canvas estimated at $1500/2500, they sold between $4025 and $6325, the latter being Shaman with Young, 21" x 54.5" from 1976. Two works in the sale each picked up bids of $9200. Paul Caron's 12" x 16" canvas of the Hills of Baie St. Paul estimated at $5/7000 and Henri Masson's Skiing, Camp Fortune, 24" x 32" estimated at $7/9000.