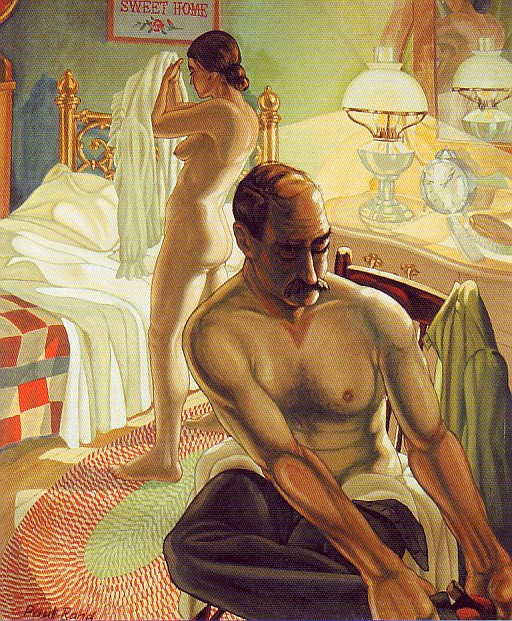 Calgary – The first major Canadian art sale this spring – as in previous years – comes from Levis Art Auctions in Calgary who will be offering around 300 lots of Canadian art and about 50 lots of international works in a single session, April 22nd, that carries a pre-sale estimate of $440/550,000. The top estimated lot at $20/25,000 is an interesting and appealing Walter J. Phillips watercolour, 14" x 21" of a Port Scene from 1936. Not far off the pace are two works from Nicholas de Grandmaison, one a pastel of an Alberta Plains Indian and the other an oil on board of a Lady with a Pipe, each estimated at $18/22,000.
While not the top estimated lot, perhaps the most significant piece in this sale is a large 49" x 43" canvas from Paul Rand (1896-1970) who emigrated from Germany and studied at the Vancouver School of Art under Jock MacDonald, W.P. Weston and Fred Varley in the late 1920s. Bed Time (illustrated above right), a powerful figurative work, was painted in 1940 and carries a pre-sale estimate of $15/20,000.
Also of note in this sale is a 20" x 16" oil on board by Maxwell Bates entitled Waiting for the Grant from 1964 estimated at $45/6500, and, for collectors of the unusual, how about a charcoal sketch of Chief Wicka-Nin-Nish Trail Maker Extols the Tribe by Arthur Lismer. Drawn on an Edmonton Petroleum Club placemat, and, according to the catalogue, bearing "handling marks and lunch stains" it carries a modest $8/1000 estimate.
Company president Doug Levis noted, when asked about the current state of the Canadian art market that "(it) is going to be very strong for very good work and strong for the rest of the market – it isn't slowing down here in Calgary!"
Calgary – Across town Hodgins Art Auctions are still in the throes of putting their two session sale of Canadian and international art together. Set for May 28th & 29th, Kevin King, company president, says that at time of writing the sale already boasts a good selection of west coast artists including pieces from Maxwell Bates, H.G. Glyde and Illingworth Kerr, as well as a few pieces form the Group of Seven.
Hodgins' fall 2006 auction posted sales in excess of $500,000 and it seems likely that we can expect more of the same from this sale also.