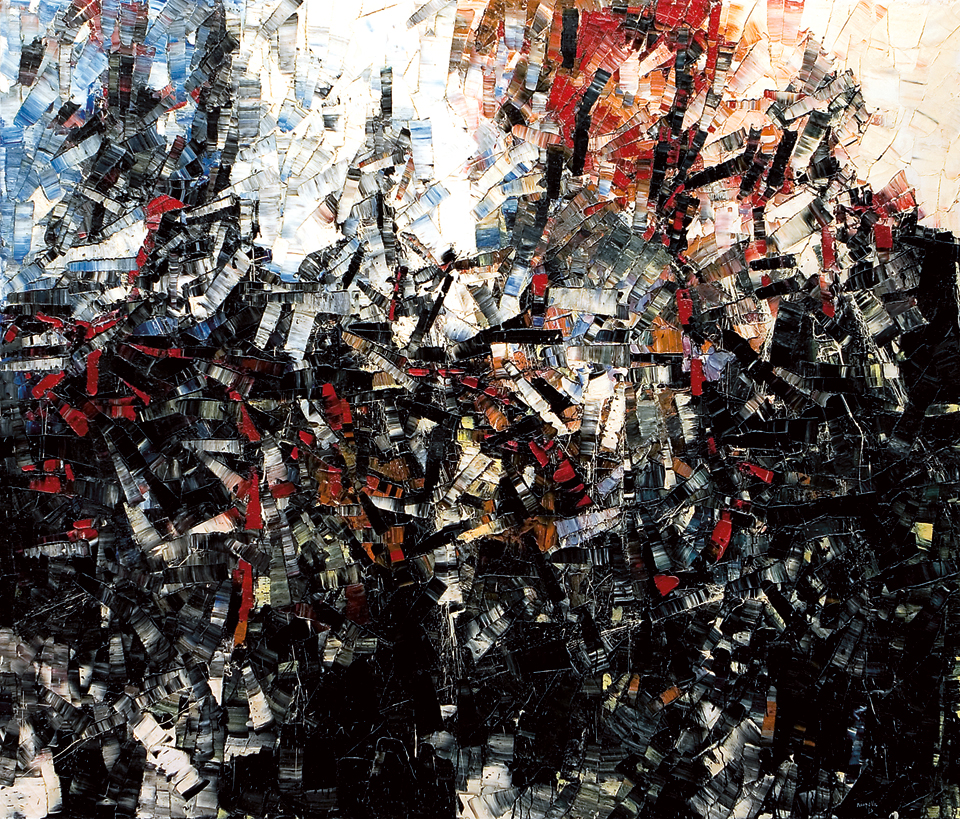 Toronto – Sotheby's is celebrating their 40th anniversary serving the Canadian art market this year and it is fitting that they are doing so with their largest and most prestigious sale ever. The sale, conducted in association with Ritchies, will be held at on Monday, May 28th and the approximately 226 lots carry a combined pre-sale estimate of $9/12 million. Although the sale is in Toronto selected works will be available for viewing in the weeks leading up to the sale in Montreal, Vancouver and Calgary.
The undisputed highlight of this sale, and the highest estimated lot in the spring series of sales, is Jean-Paul Riopelle's "monumental" canvas La Foret Ardente (illustrated right). Painted in 1954 and measuring 76" x 90", this extremely important work by Canada's foremost abstract painter carries an estimate of $2/2.5 million. Riopelle's Automatiste colleague, Paul-Emile Borduas is also represented in the sale with an impressive canvas from 1959 entitled Pieres Angulaires. Measuring 35" x 45" it carries a pre-sale estimate of $300/400,000 and could well set a new record for the artist, a record that has stood for 18 years.
The sale also boasts a good selection of major works by members of the Group of Seven, including a spectacular Lawren Harris Mountain Sketch XXI estimated at $400/600,000.
Asked about his thoughts on the current state of the Canadian art market, Sotheby's representative Mark Buck noted that "The Canadian art market it becoming more robust with every season. We are reaching unprecedented values as quality works of important Canadian art are being sought out by established collectors, and (we) are equally encouraged (to see) new collectors entering the market at all levels. We are also delighted to see that post-war and contemporary Canadian artists are ardently gaining momentum and now account for a significant portion of the market."